If you are looking for the best WordPress themes for your blog then you've arrived at the right helpful resource. There are various themes available for WordPress websites, but finding the perfect one for your blog can be overwhelming.
Whether you're a seasoned blogger or just starting, these themes will help you create a stunning and functional website that captures your unique style.
From basic-looking designs with exceptional features to highly customizable theme templates, we have curated a list of 10 Best themes for your blog website as per our testing and experience.
#1 Popcorn Theme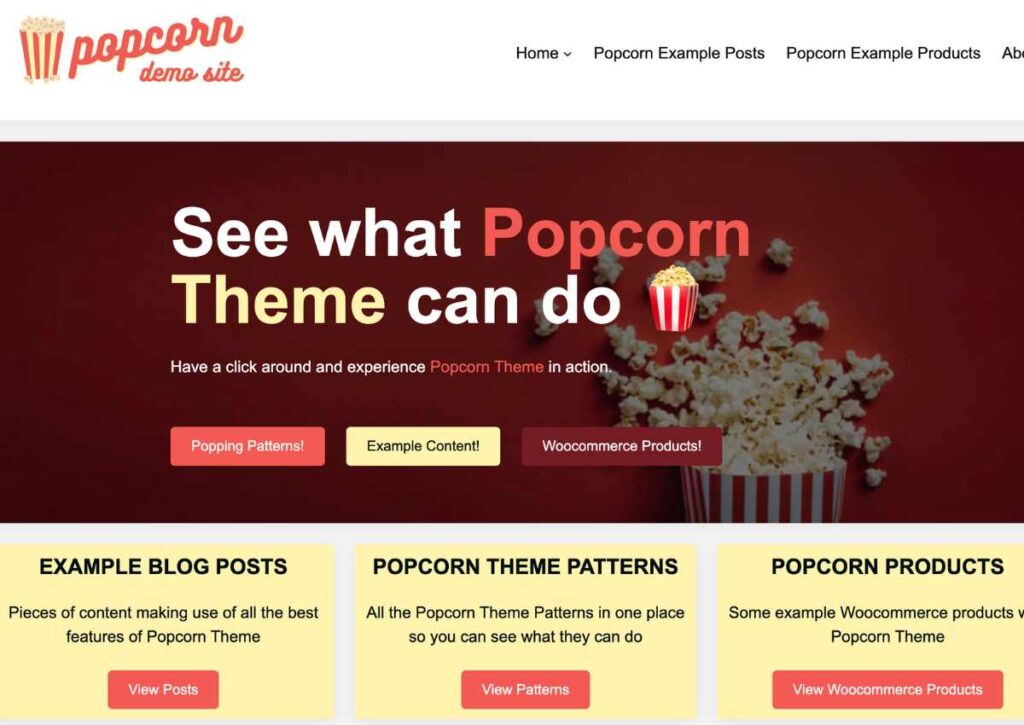 Popcorn is a remarkably excellent theme that is simple to use with a clean layout. It is less distractive which is good for cranking out blog posts and affiliate articles. Thanks to the clean code, it is super fast and requires very little need for external plugins.
We have picked Popcorn Theme on top of all the themes because it is made for bloggers to publish content easily, integrates well accordingly with ads, and has built-in features for affiliate posts such as product boxes and disclaimer banners.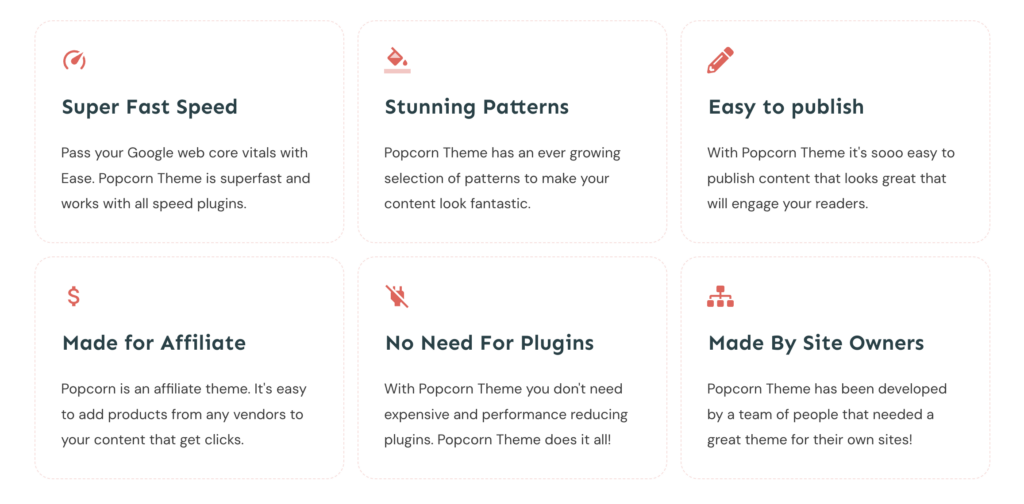 It has an inbuilt table of contents widget at your disposal. It helps readers find out the exact information and topics they looking for with this table.
Not only this Popcorn is an SEO-friendly theme that adds immense value to blog owners in ranking their articles on the top of the SERP (Search Engine Results Page) of Google.
It comes with product comparison tables that help affiliate marketers increase conversion rates, without needing any separate plugins which is an impressive deal.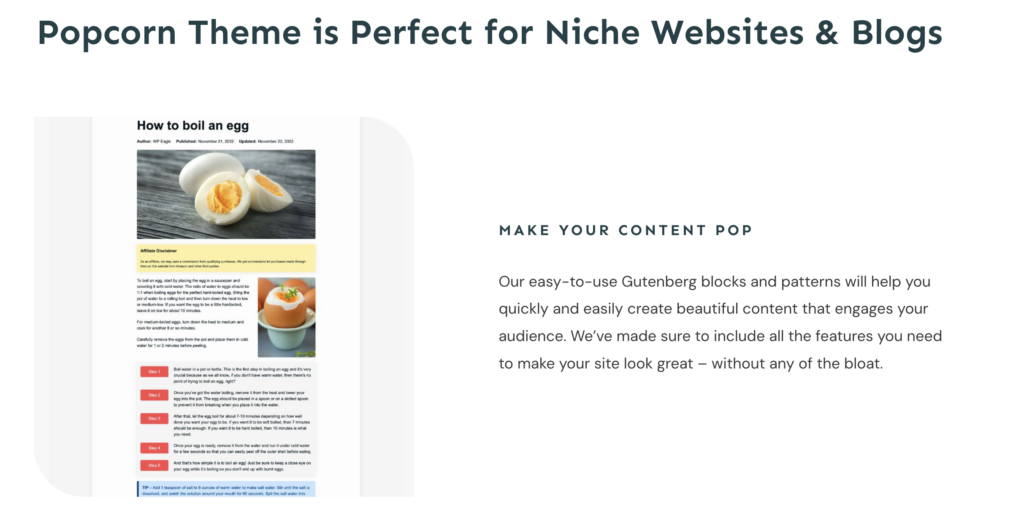 A lifetime plan can be easily used for multiple blog websites and emerges as the best for niche website owners. Popcorn Theme was founded by Carl Broadbent, Alex Cooper, and Phil Lankester who are famous successful niche websites and online business owners.
Pros:
Fast and Simple to set up and use
Product comparison tables for affiliate posts
Unlimited access with a lifetime plan
Made by experienced content website owners
Community access and support
Great core web vitals
Super fast page speeds
Dozens of pattern and product boxes
Lots of Free features that are usually paid plugins
Cons:
Requires coding knowledge and skills to customize the theme
No refund policy unless the theme is broken
---
#2 Astra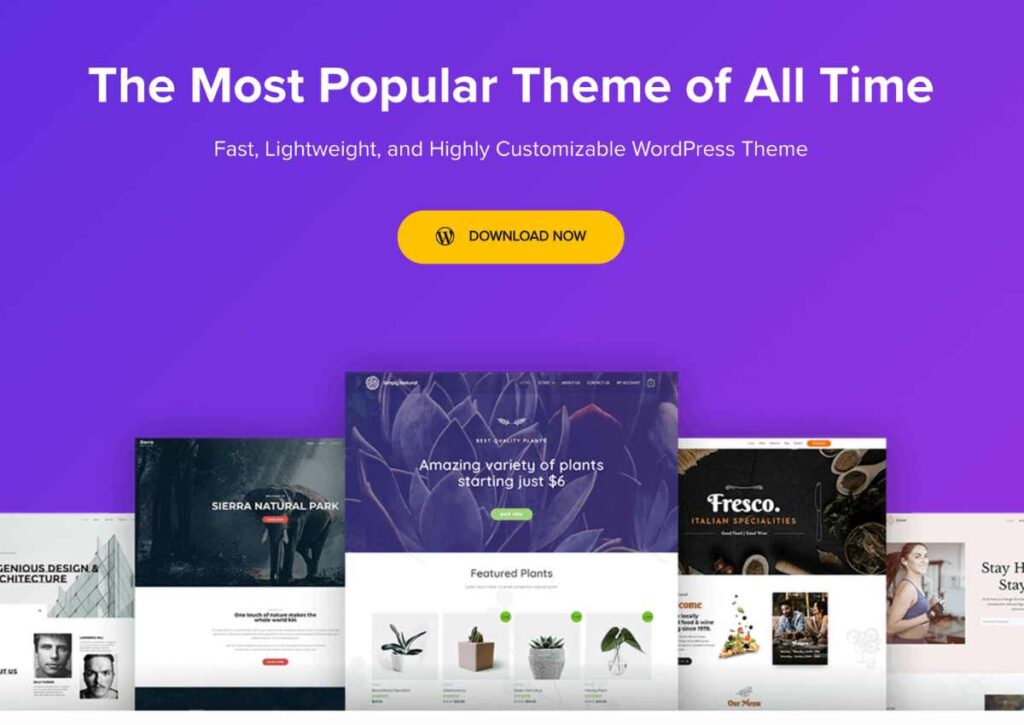 Astra theme is the best for customizing your blog website and you can choose from a variety of templates. Astra offers a collection of professionally designed starter templates for various niches.
Choose from a variety of blog layouts to present your content in a visually appealing manner, keeping your readers engaged and coming back for more.
Whether you're creating a blog, e-commerce site, portfolio, or business website, you'll find a template that suits your needs.
You can tweak every aspect of your website's appearance, from fonts and colors to layouts and spacing, all without a single line of code. Also for developers, Astra provides extensive hooks and filters for customizing and extending the theme's functionality.
If you're building an online store, Astra seamlessly integrates with WooCommerce. It ensures that your e-commerce site looks great and functions flawlessly.
Astra is built with SEO in mind, helping your website rank higher in search engine results. It's designed to follow best SEO practices and load quickly, which search engines love.
It has a built-in schema markup that improves your website's SEO and provides richer search results
Adding more Astra works well with popular page builders like Elementor, Beaver Builder, and Brizy, allowing you to design your site the way you envision it.
Pros:
Mobile Friendly which is a big Yes for blog websites
Super fast theme with less loading time
Drag and drop builder for seamless website building
100+ Free professionally designed templates
Built for WooCommerce to build stores
Cons:
Requires a fair learning curve for beginners
No chat support for the free version
The free Astra version doesn't allow external CSS Generation
Premium theme is expensive
Support is poor
---
#3 Generate Press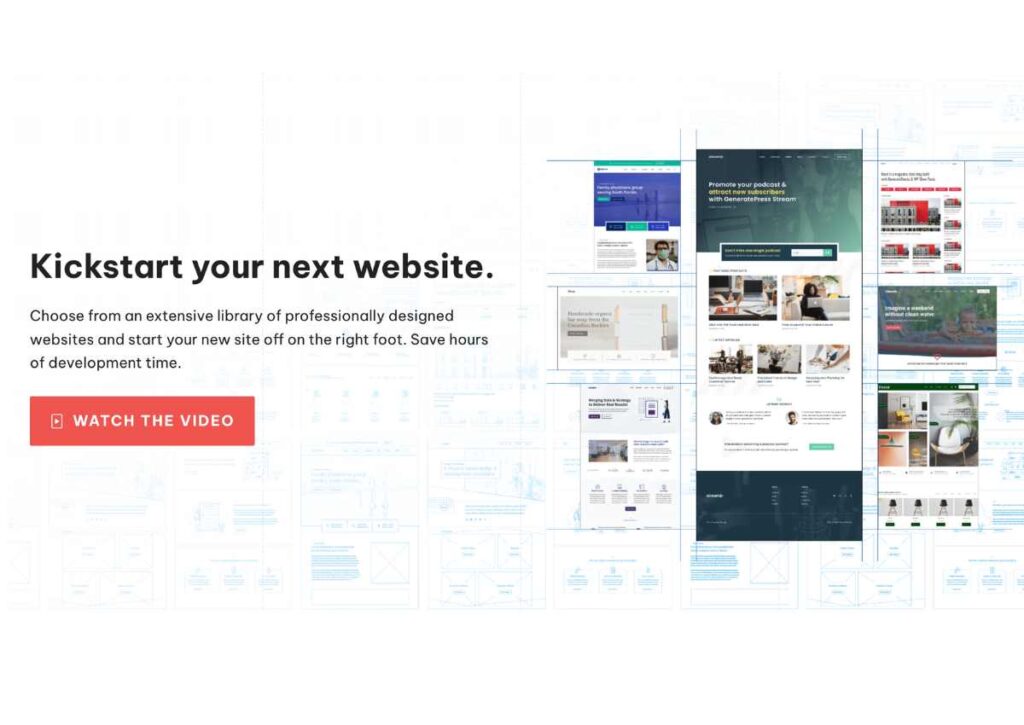 Generate Press is one of the best clean and simple-looking WordPress themes out there for bloggers. It is highly suitable for content websites.
When it comes to WordPress themes, sometimes less is more. If you're searching for a clean, efficient, and highly customizable theme, look no further than Generate Press.
Its lightweight code ensures blazing-fast load times, which not only delights your visitors but also gives your site an advantage in search engine rankings.
Despite its simplicity, GeneratePress offers unparalleled customization options. You can tweak everything from typography and colors to spacing and layouts through an intuitive interface.
With the rise of mobile browsing, it is crucial to optimize for mobile readers. Thanks to GeneratePress's mobile-first approach for making bloggers worry-free about mobile optimization.
Whether you're using the WordPress block editor, classic editor, or popular page builders like Elementor or Beaver Builder, GeneratePress plays well with them all.
GeneratePress offers a library of pre-designed site templates that make your website-building journey fast and effective.
Pros:
Lightweight theme suitable for bloggers
Appreciatable customer support
Clean code used for a build that makes your blog fast
Works well with Generate Blocks
Cons:
The free version lacks many features like pre-built sites
Not for all types of websites
Not many 3rd party integrations
---
#4 Kadence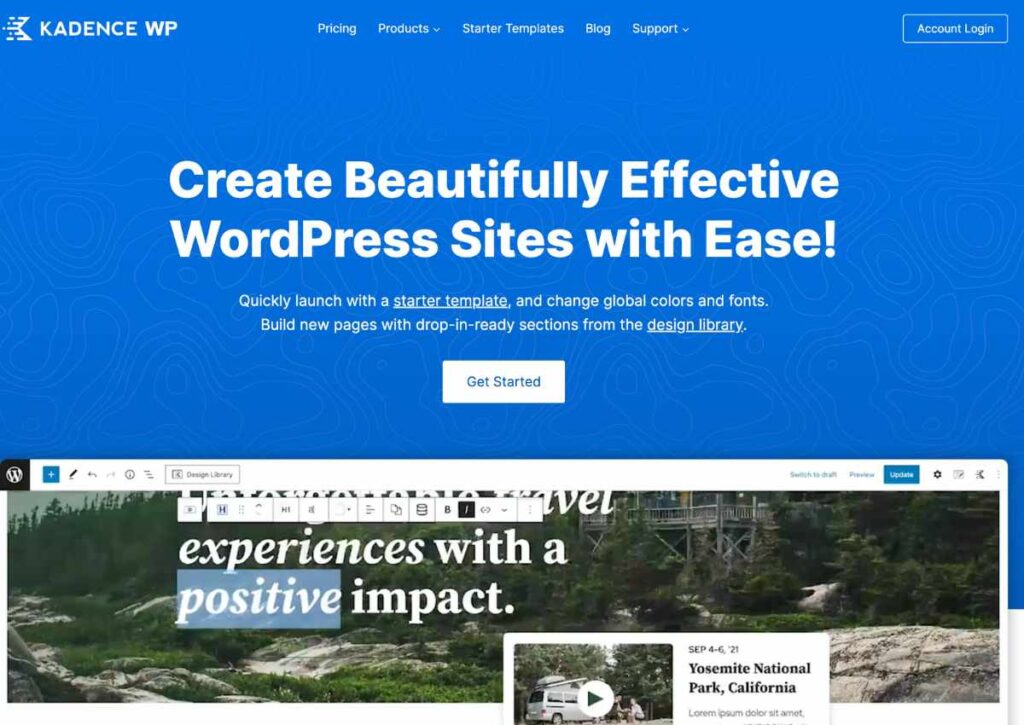 Kadence is feature feature-packed theme for bloggers. It is one of the highly customizable themes for WordPress content sites. With its impressive array of features and intuitive design, Kadence has become a trusted companion for WordPress enthusiasts.
With the growing importance of mobile devices, Kadence ensures that your website looks stunning and functions seamlessly on smartphones and tablets.
Kadence is truly built for performance and its code is super fast and not bloated. With a size of just 41.9 kilobytes, it is one of the leaders in the market when it comes to fast themes. As Core Web Vitals are a significant ranking factor Kadence will help you along with the journey of ranking on top of Google's SERP.
Kadence Pro works well with Braver Builder, Elementor, Gutenberg, Breezy, and various other page builders. Building an e-commerce site? Kadence seamlessly integrates with WooCommerce and unlocks advanced WooCommerce features, including product grid layouts and single-product page customization.
Pros:
Drag and drop header/footer builder
Fast and lightweight suitable for content sites
Range of starter templates
Integration with LifterLMS and LearnDash
Integration with page builders
Good Support for your frequent queries
Cons:
Requires a learning curve for beginners
Paid premium features that may increase cost
Heavy requirement of plugins for certain features on your website
Not the cheapest theme
Support is slow
---
Extra
#5 Extra for Divi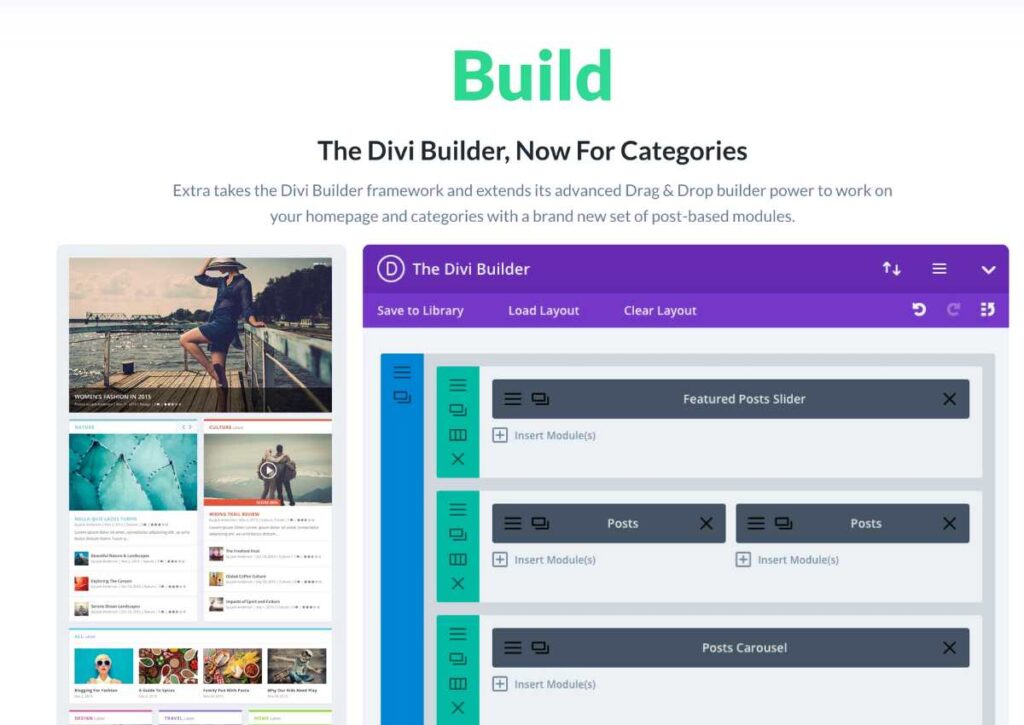 Extra, a premium WordPress theme by Elegant Themes, is designed to revolutionize your content-rich websites. With its robust features and exceptional versatility, empowers bloggers, publishers, and online magazines to create stunning, immersive experiences for their readers.
It seamlessly integrates with the Divi Builder, one of the most popular page builders in the WordPress ecosystem. This drag-and-drop builder enables you to create custom page layouts effortlessly for your blog.
Extra introduces a unique Category Builder that lets you design and customize the layout of your category pages, giving each section of your website a structured look.
Extra is responsive and mobile-friendly, ensuring that your website looks stunning and functions flawlessly on all devices, from desktops to smartphones.
As you're looking to monetize your website, Extra offers ad placements and compatibility with advertising plugins, helping you maximize revenue.
As part of the Elegant Themes membership, you receive continuous updates and access to a dedicated support team.
Pros:
24/7 Customer support to resolve any problems with your blog
Customize your menus and headers with Extra
Value for money theme
Wide range of templates
Cons:
Overwhelming amount of features and settings for blog-based websites
You may require a lot of content to cover the layout
Divi slows your website
Not great for core web vitals
Not a good idea to switch themes now and then
---
#6 Neve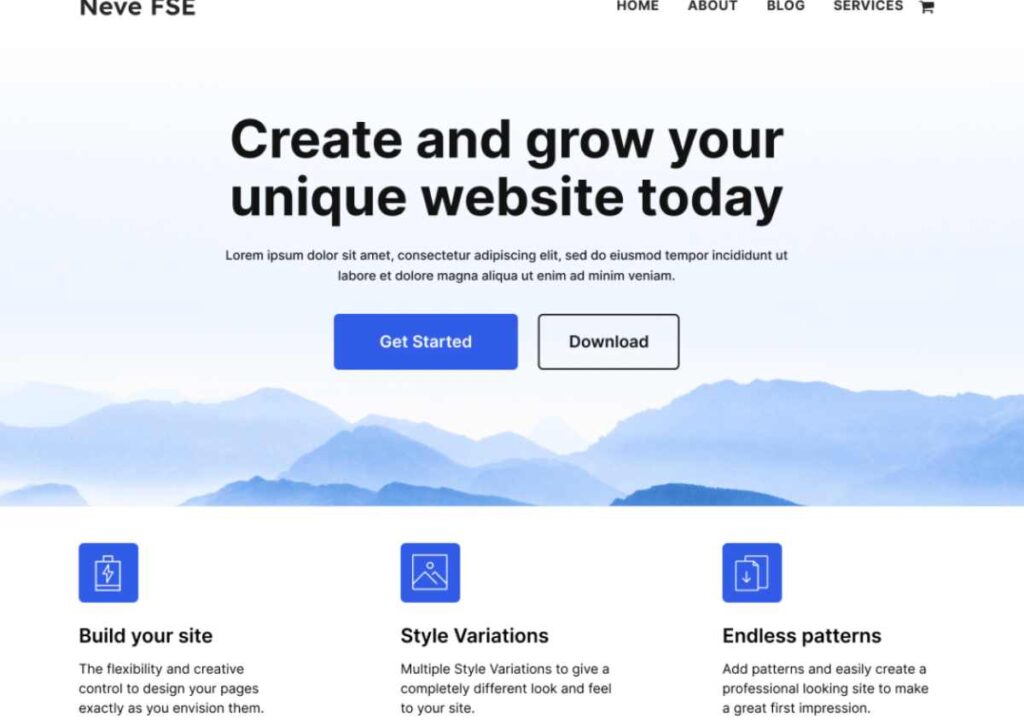 Developed by ThemeIsle, Neve is celebrated for its simplicity, speed, and flexibility. Whether you're a blogger, a small business owner, or a web designer, Neve provides the perfect canvas to create stunning and responsive websites.
Neve provides an attractive and clean layout for blogs, making it a fantastic choice for content creators and bloggers. It also offers a collection of professionally designed starter sites for various niches.
Its lightweight code ensures lightning-fast load times, offering a seamless and enjoyable browsing experience for your visitors. Plus, its small footprint positively impacts your website's SEO.
It is fully responsive and mobile-friendly, and it ensures that your website looks and functions smoothly on all devices, from desktops to smartphones and tablets.
Neve is compatible with popular page builders like Elementor, Beaver Builder, and Brizy. You need not worry about compatibility and this means you have the freedom to design and customize your blog with ease and fun.
ThemeIsle is dedicated to keeping Neve up-to-date and providing top-notch support to users. This means you can rely on ongoing improvements and assistance when you need it.
Pros:
Mobile friendly and visually appealing on mobile devices
100+ Free Blog Templates
Code in place that is optimized for search engines
You can witness real-time changes when editing your blog
Cons:
No 24/7/265 Support Available
The free version is limited to customization options
Slows websites due to needing divi
Costly to get every premium extra
---
#7 Ocean WP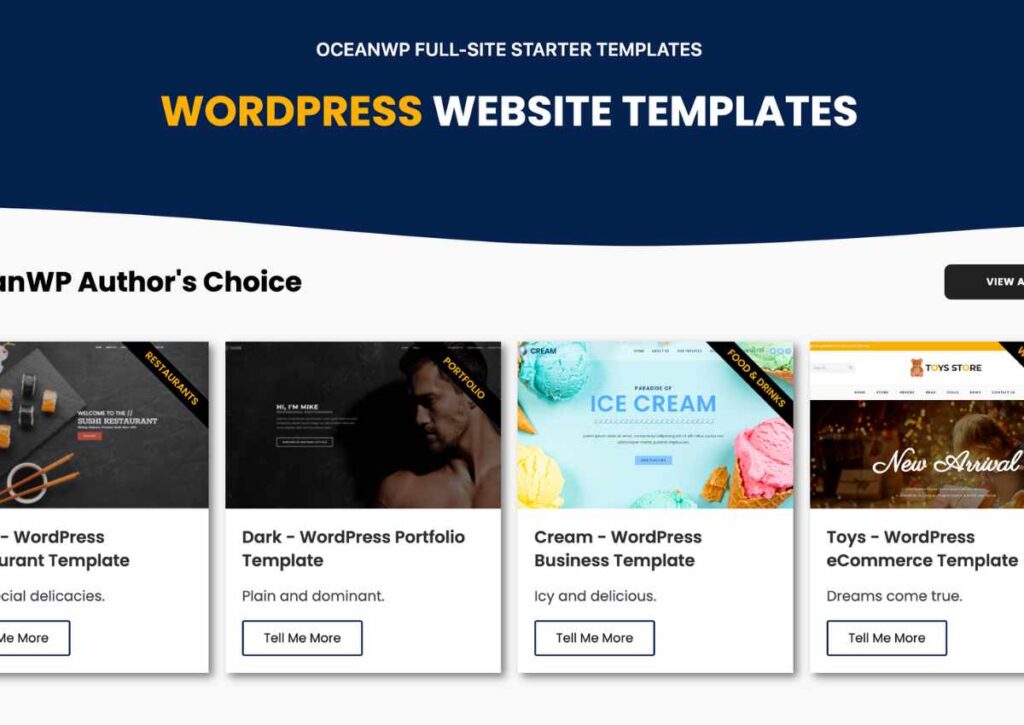 OceanWP is a versatile and highly customizable WordPress theme that is highly suitable for blog websites. OceanWP offers a powerful combination of speed, flexibility, and ease of use.
Whether you're building a blog, business site, portfolio, or e-commerce store, OceanWP provides a robust foundation for your online businesses.
It is renowned for its exceptional speed and performance optimization. Its lightweight code and efficient design ensure fast page loading, which enhances the user experience and SEO rankings which is highly beneficial for blog websites.
OceanWP seamlessly integrates with popular page builders like Elementor, Beaver Builder, and Visual Composer, giving you the freedom to design and customize your blog with ease.
The theme is actively maintained, ensuring compatibility with the latest WordPress versions and regular improvements to security and performance.
Pros:
OceanWP is an affordable theme that helps you start your blog lean
Integration of WooCommerce for online stores
Easy to use and set blog-based websites
Plethora of customization options
Cons:
You may need to purchase the Ocean Extra plugin for the OceanWP theme
Multiple plugins are required to install and create a good website
Steep learning curve and is not beginner-friendly
Dated demo sites
Slow page speed
Larger file size
---
#8 Lovecraft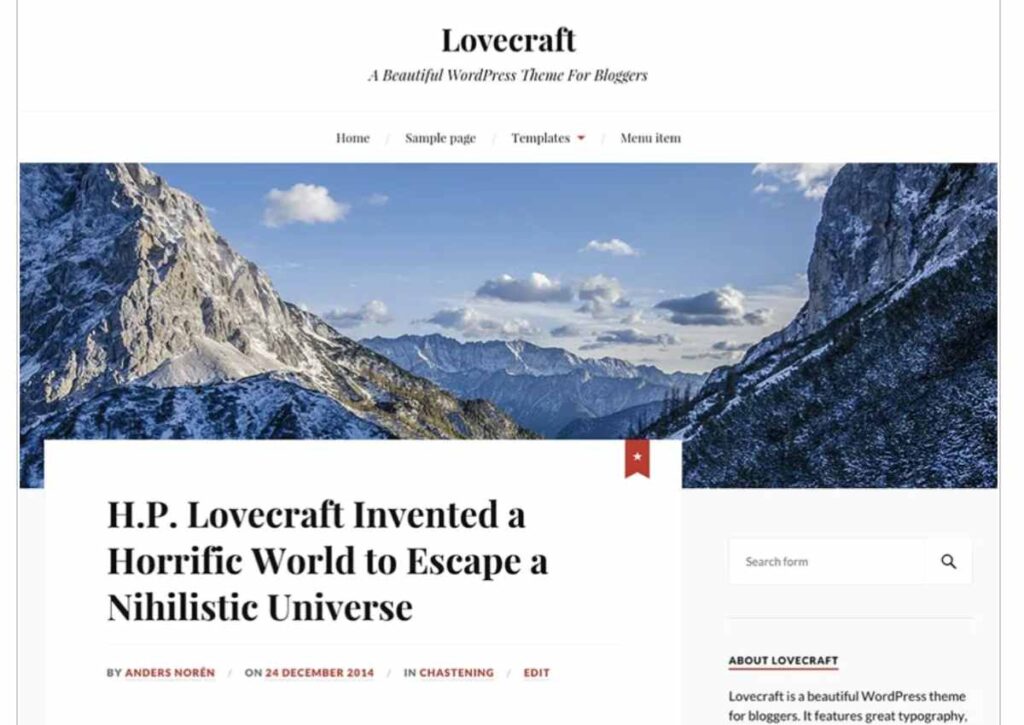 Lovecraft theme is designed for bloggers who seek a clean and elegant canvas to share their thoughts, stories, and creative content. Lovecraft is a beautiful and minimalistic WordPress theme that pays homage to the works of the famous American author H.P. Lovecraft.
Lovecraft's design is reminiscent of classic literature. Its elegant typography, spacious layout, and uncluttered interface create an inviting and immersive reading experience on blog sites.
It is a fully responsive theme, it ensures that your content looks stunning and remains easy to read on all devices, including smartphones and tablets.
It features an author bio section at the end of each post, allowing you to introduce yourself and provide links to your social media profiles or other relevant information.
The theme is coded with SEO best practices in mind, helping your blog rank well in search engine results and reach a broader audience.
Pros:
A lot can be done with the free version
Visually appealing beautiful fonts for readability
It is integrated with Jetpack allowing the addition of many display options, and editor styles
Minimalist aesthetic look
Cons:
Not highly customizable
Need coding knowledge to restructure/tweak the theme
Poor core web vitals on tested sites
Support is poor
---
#9 Hemingway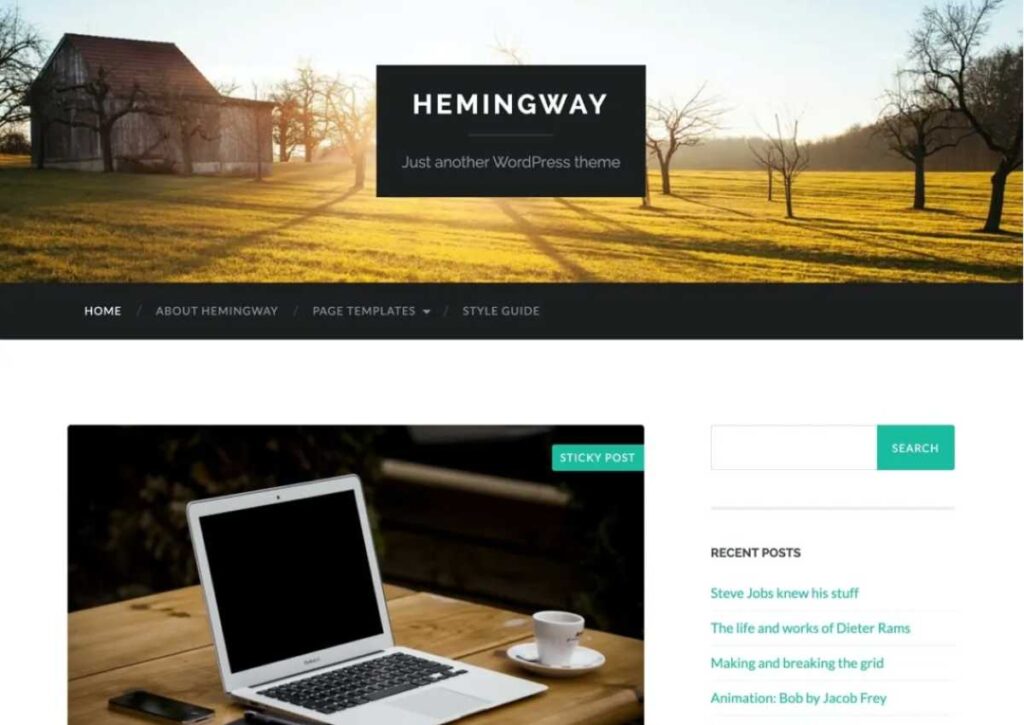 Developed by Anders Noren, this theme is characterized by its clean and minimalist design, which echoes the simplicity and clarity found in Hemingway's writing style.
Hemingway is an excellent choice for bloggers, writers, and content creators who value readability and aesthetics.
Hemingway's design is clean, uncluttered, and focused on content. It eliminates distractions, allowing your words and images to take center stage.
You can select from various color schemes and customize the header image to reflect your style.
Hemingway includes a widgetized sidebar that allows you to add functionality and additional content to your blog, such as recent posts, categories, or custom widgets.
The theme is coded with SEO best practices in mind, helping your blog rank well in search engine results and reach a broader audience.
At the end of each post, Hemingway provides a dedicated section for the author's bio, where you can introduce yourself and provide links to your social media profiles or other relevant information.
Pros:
Fast and lightweight helps blogs rank well with the loading speed ranking factor
The minimalistic view that is simple yet attractive to read
Page builder and block editor support
Cons:
Not highly customizable
Requires coding skills to customize the theme
---
#10 Writee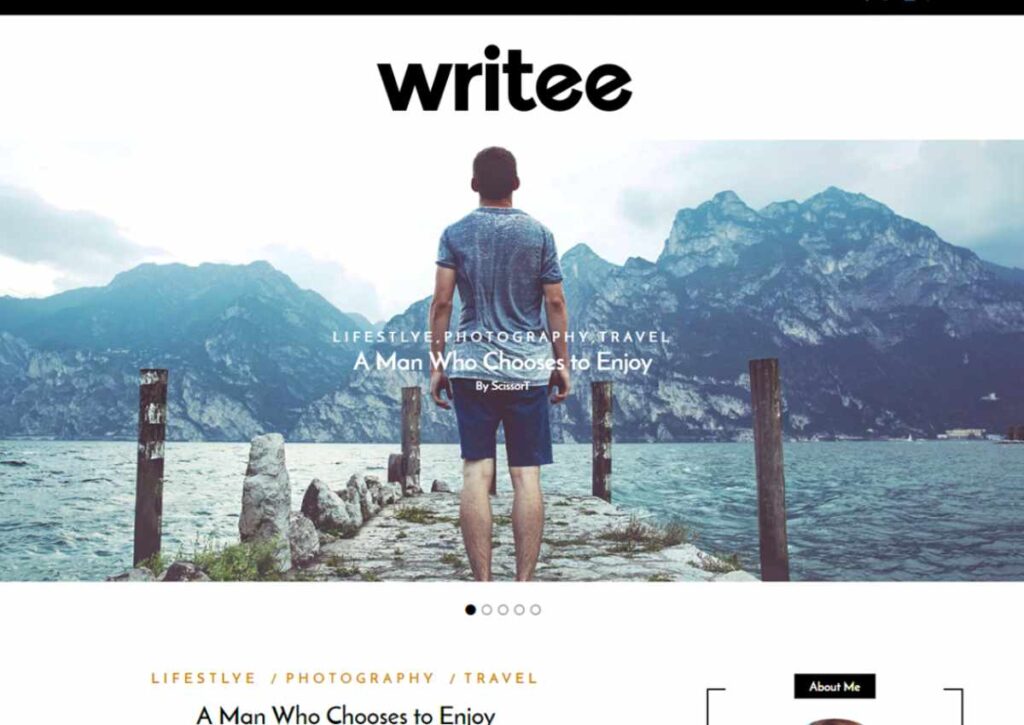 Writee is a versatile and aesthetically pleasing WordPress theme designed for bloggers, writers, and content creators. It offers a clean and modern design that focuses on enhancing the readability of your content.
With a range of customization options and features, it's an excellent choice for those who want to showcase their writing with style.
The theme boasts a clean and minimalist design that puts your content at the forefront. Its uncluttered layout ensures that your readers can focus on your words without distractions.
The theme offers a variety of customization options, including color schemes, typography settings, and layout options.
Writee includes a featured content section that allows you to highlight your most important or popular posts. This feature can help engage your visitors and encourage them to explore more of your content
The theme is designed with SEO best practices in mind, helping your website rank well in search engine results and increase its visibility.
Pros:
Multiple custom widgets to enhance the blog's sidebar
Mobile-friendly designs that look great on smartphones
Cons:
Simple yet not very customizable
Conclusion
The world of WordPress themes offers an abundance of choices, but the right theme can truly elevate a blogger's website and content. The 10 best WordPress themes for bloggers highlighted in this guide each brings unique features and aesthetics to the table, catering to different tastes and needs.
Overall, I have to say Popcorn Theme that myself and my partners have developed offers everything you need, super fast speed, fully customizable and does not need third party plugins.
FAQs
Are WordPress themes free or paid?
WordPress offers both free and paid themes. You can find free themes in the official WordPress theme repository, and premium (paid) themes are available from various theme providers and marketplaces.
How do I install a WordPress theme?
To install a WordPress theme, go to your WordPress dashboard, navigate to "Appearance" > "Themes," click "Add New," and then either upload a theme from your computer or search for one in the WordPress theme repository. Once you find the theme, click "Install" and then "Activate."
Can I customize a WordPress theme?
Yes, most WordPress themes are highly customizable. You can usually modify colors, fonts, layouts, and other design elements through the WordPress Customizer or theme settings. Additionally, you can use page builders and custom CSS to further customize your site.
How do I switch between WordPress themes without losing content?
You can switch between WordPress themes without losing content by ensuring that both the old and new themes support the same content types (e.g., blog posts, and pages). After activating the new theme, you may need to adjust widgets, menus, and theme-specific settings to match the new theme's structure.
What should I look for when choosing a WordPress theme?
When choosing a WordPress theme, consider factors like design aesthetics, responsiveness, speed, SEO optimization, customization options, support and updates, compatibility with plugins, and whether it suits your website's niche or purpose.
Are all WordPress themes SEO-friendly?
Not all themes are equally SEO-friendly. However, many themes, especially those in the WordPress theme repository, are designed with SEO best practices in mind. You can further enhance SEO by using SEO plugins and optimizing your content.
How often should I update my WordPress theme?
It's essential to keep your WordPress theme up-to-date for security and compatibility reasons. Themes should be updated whenever new versions are released by the theme developer. Always back up your site before updating themes or plugins to prevent data loss.
Remember that the specific features and options of WordPress themes can vary, so it's a good practice to check the theme's documentation or contact the theme developer if you have specific questions or concerns.
Which is the best free WordPress theme for bloggers?
Popcorn is by far the best WordPress theme for bloggers in 2023.
Can WordPress be used for blogging?
Yes, WordPress is a widely used and popular platform for blogging. In fact, WordPress started as a blogging platform and has since evolved into a versatile content management system (CMS) that can be used for a wide range of websites, including blogs.
WordPress offers a user-friendly interface for creating, managing, and publishing blog posts. It provides features such as categorization, tagging, comments, and an archive system that are essential for managing a blog effectively.
Does creating a WordPress blog require coding?
Creating a WordPress blog does not necessarily require coding skills, especially if you're using WordPress as a user-friendly content management system (CMS). WordPress is designed to be accessible to people with varying levels of technical expertise, and it provides a user-friendly interface for creating and managing blog content.
How can I monetize my WordPress blog?
Monetizing your WordPress blog can be a rewarding endeavor, but it often requires time, effort, and a solid strategy. Here are several ways you can monetize your WordPress blog:
Display Ads
Affiliate Marketing
Sponsored Content
Sell Digital Products
How can I promote my WordPress blog?
Promoting your WordPress blog effectively is crucial to attracting a larger audience and increasing your blog's visibility. Here are some strategies to help you promote your WordPress blog:
Create High-Quality Content:
Optimize for SEO
Leverage Social Media
Email Marketing
Guest Blogging
Collaborate with Influencers
Engage in link-building