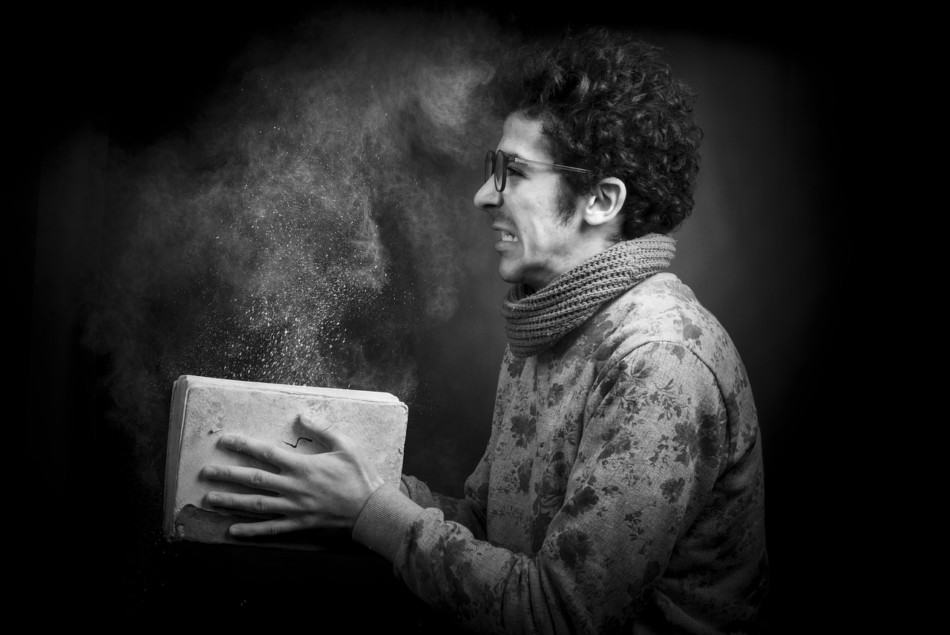 As niche bloggers and online content providers, you spend hours writing and creating. Have you ever stopped to think about when the content you poured so much effort into will have the most views? And similarly, when will your content become dated? Why let your hard work turn into dead weight when you can reindex content and bring new traffic to your site. In this article, we'll discuss why it's important and what you can do to update old content. We'll take a look at:
Click-Through Rates
The Content Itself
Search Traffic
Inbound and Outbound Links
Dated and Updated Content
Breaking Up Your Content
Content Promotion
Let's get started!
Click-Through Rate
If you've been creating content for long enough, likely you utilize Google Analytics. It's a fantastic resource for tracking all sorts of information when it comes to traffic and audience engagement on your site.
We're going to start by first taking a look at the "Search Analytics" in your Google Analytics panel. What does your click-through rate look like? It might be all over the map when it comes to various pieces of content. If you have some that appear much lower than others, that's a pretty big sign that you need to tweak your older content to make it relevant again.
Are you considering placing ads on your site and making money from your traffic? If yes, Then checkout Ezoic! An amazing advertising platform for niche websites. Click here!
First, start by analyzing key elements like your title and the description. How does your content appear in a Google search? Your title should be concise and contain keywords letting the audience know what they should expect by clicking your link.
The description should provide just enough of a teaser to intrigue the reader and make them want to read more. The more concise, clear, and intriguing your short snippets and titles are, the more engagement you'll see. Luckily, these elements are easy to change, even after content is published.
The Content Itself
Editing is key. Let's repeat that for emphasis. Editing. Is. Key. Even if you are short of time, there is no excuse to have grammatical, spelling, or punctuation errors in your content. When you publish content that is poorly written, this will invalidate all authority you ever had over a topic. Your audience will view you as an amateur. They will no longer trust you as a guide and resource.
Think about it, when you read an article and see a glaring typo or lack of spacing, how do you feel? Probably not great. Though it's a simple mistake, it's also an avoidable mistake.
When you're checking your click-through rate in the previous step, open up a few links to low performing pieces of content. Scan through them and check for any obvious mistakes. Try using a tool like Grammarly. There is a free version available, which provides a ton of help when it comes to proofreading and editing.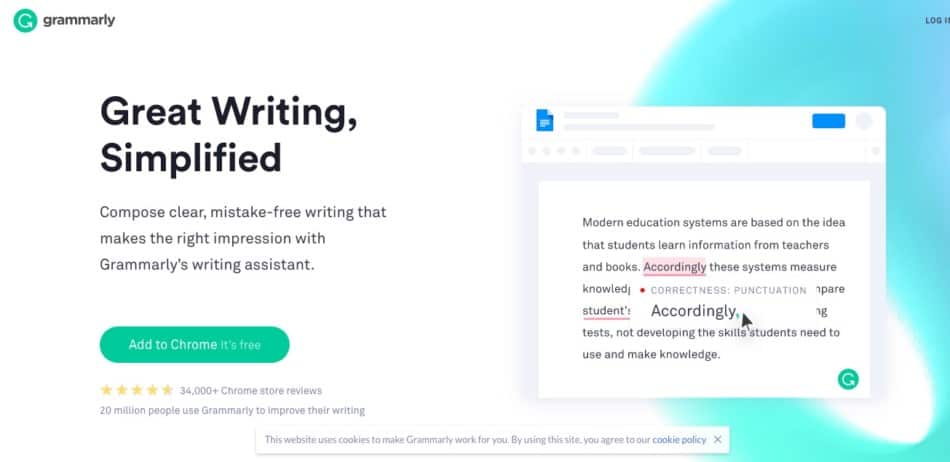 They also have a premium version that will show you things like passive verb usage and sentence structure, which is important when it comes to SEO. We'll get to SEO in a minute.
Understand that you can make changes. Nothing is permanent. If you think an article is particularly lacking, then rewrite and republish it. However, if there are just a few little tweaks to be made, no need to do an entire rewrite. Just make the necessary changes. Taking the time to improve your writing will pay off in the long run, especially when it comes to building an audience who trusts you. Once you've built that, then they'll come back again and again for more information.
Search Traffic
Heading back to our Google Analytics, it's time to take a look at our search traffic. Take stock in which topics and articles have good traffic versus which ones have little to none. This is where SEO comes into play. SEO stands for Search Engine Optimization and it is incredibly important in driving traffic to your content. If you use WordPress, Yoast is an excellent SEO tool that essentially gives you a checklist of things to make sure your article is optimized.
For SEO, you'll want to make sure your article has a keyword. What is the focal point of what you're talking about? This should be reflected in your title and article description. Your article will appear in Google searches when someone searches your keyword. You can also increase your SEO by having easy to read content and inbound and outbound links.
That's just scratching the tip of the iceberg when it comes to SEO. While at face value, it may seem overwhelming learning all of this at once, remember to take it step-by-step and recognize how exciting it is that you have so many ways to improve and update your old content.
Inbound and Outbound Links
When digging through old content, be sure to test every link included in your articles. You should do this every time before you publish something as well. When it comes to older content, websites change, things get deleted, products are taken off of the market. Have you ever read an article about a product you were particularly excited about? You clicked the link hoping to buy it but the product was no longer available. Avoid that disappointment by making sure every single link you post clicks through.
This is especially important when it comes to source material for factual content and affiliate marketing. Let's say you have an entire business built around affiliate marketing, you won't be making any money if your links aren't clickable.
Take a look at Link Whisper plugin. It will make adding interenal links faster, smarter and alot easier if you have lots of articles or pages on your site.
You'll also need consistent and substantial traffic to be qualified as an affiliate marketer. Taking the time to update old content will give you a better chance at qualifying for affiliate marketing. Once you're approved for affiliate marketing, maximize your income by making it easy and possible for your audience to click outbound links.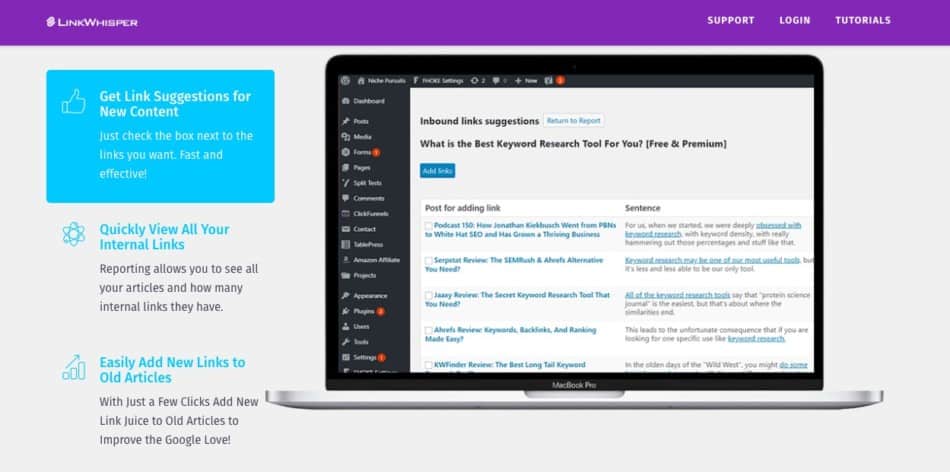 Similarly, you can add inbound links to content that is performing well. An inbound link is a link that takes your audience to another article or page on your site. If you have an article that receives a ton of traffic, consider adding a few inbound links to other lower-performing articles through your content. Or add a "Did you like this post? Go check out x,y,z for more". This will bring your reader's attention to other content on your site. Optimizing your links is truly essential for helping people find your content and increasing your traffic.
We use two plugins or pieces of software for adding internal links and another for checking that all the links within your content are still working and not broken.
The first is Linkwhisper, this plugin (PAID PLUGIN) will suggest a link for all your content without having to go through every word on your page hoping to find a suitable place to insert a link. It can save you hours and set up a solid internal linking structure which is very important when Google crawls your pages. It will help with ranking positions in the SERPs results.
The second one we use is called GeniusLink which will detect and report back to you if any of your links are broken.

Imagine, you have written an awesome piece of content, you have found traffic and people are reading you review or product guide. Then they say 'Hey I love this product and I want it now!' They click the link only to see a 404 error!
Arrrrrrgh!
All that hard work to get a sale – gone! Well, GeniusLink will help prevent this from happening. Click here to read the complete review we did on this product. I'm sure you'll find it helpful.
Dated and Updated Content
Let's say, for instance, you have a blog post all about the recent fires in the Amazon. At first, it was reported that there was one massive fire covering thousands of acres. That statement was later retracted and it was announced that it was numerous tiny fires.
These tiny fires were burning in order to make room for cattle to graze. If you don't update your first article to reflect the updated news, your content becomes immediately null and void. Similarly, if your niche is in the tech or medical industries, changes are made all the time. It's very important to fact check and keep your information relevant if you want to remain a trusted source.
Let's say you don't want to rewrite an entire article about forest fires in the Amazon, you can utilize what's called an editor's note. At either the end or beginning of your article, add additional text letting your reader know what has changed. Add a date to your note along with the updated information.
This will look great to your audience showing that yes, you did report on the initial information and you also took the time to followup and give them new information. Or you could use this as a chance to create a new post and utilize inbound links within your old and new articles to link them together.
Breaking Up Your Content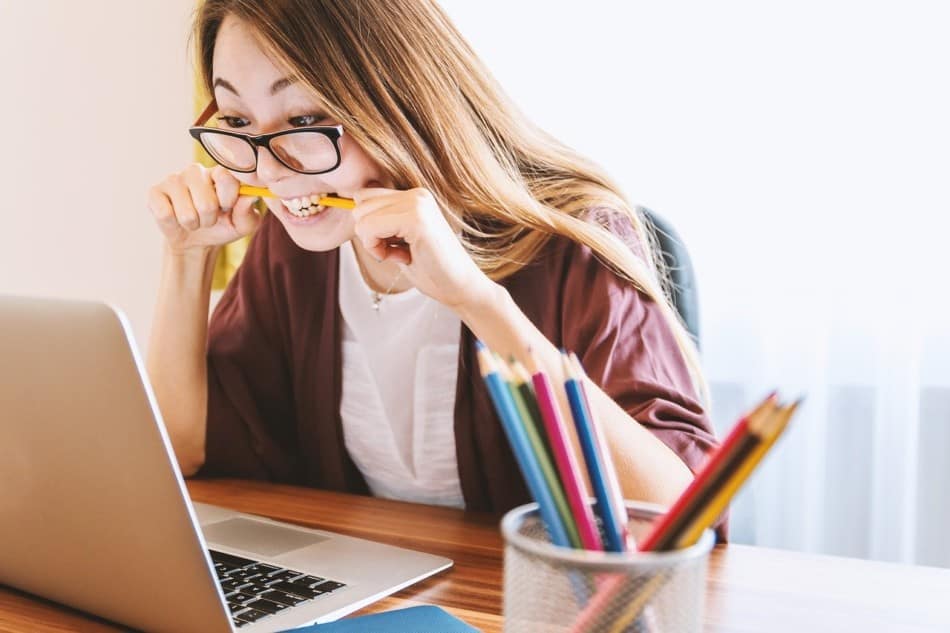 Reading long paragraphs without any visual stimulation can be drab. Readers' attention rates are not high. Try breaking up your text with elements like:
Headers and subheaders
Images & Videos
Subheaders
Quotes
Bulleted Lists
Get creative! Adding all of these things can also add a boost to your SEO.
Do you see what we did there? We broke apart the text so your brain had to take the time to register each of these things. Not only did you have to read the initial sentence, but then you had to take note of the bulleted list and the call to action letting you know how you can boost your SEO score.
When adding an image, you'll see an area for alt image description. This feature is used for people with low visibility or who cannot see the image at all. This also allows sneaking your keyword into the description, which will then register with google and boost your overall SEO score.
Similarly, Google also "reads" and registers your content through your headers and subheaders. Utilizing your keyword/s in a few of your headers will give Google more information about your work. When you give Google as much information as possible, they're able to rank your content much higher in search results.
Content Promotion
What tools are you utilizing to promote your content? Are you relying solely on Google search traffic? That's not enough, especially when there is a myriad of options to promote your work. In this day and age, social media is your best friend. Even if you don't use it personally, using it for your business is a must. Set up your Facebook page, Instagram profile, and even Pinterest account.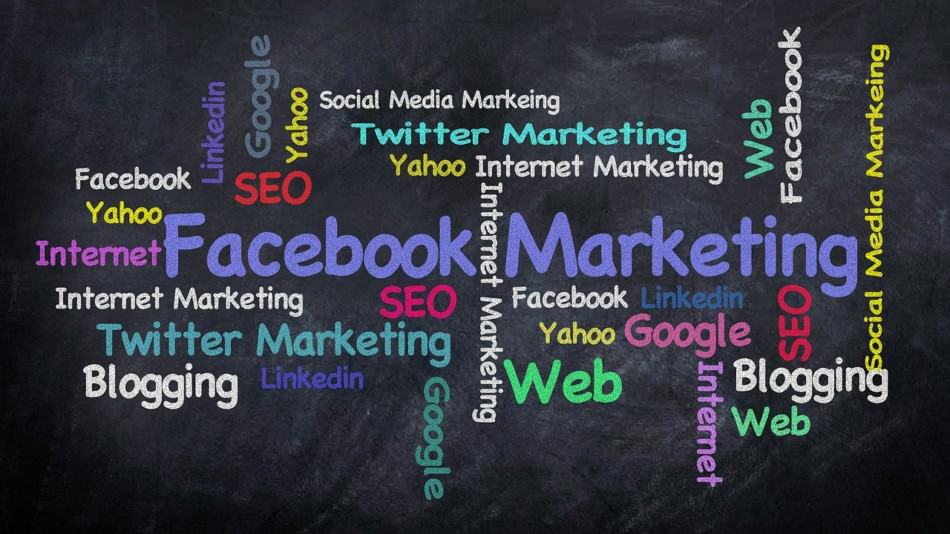 There are many strategies when it comes to these, but the main key is consistency. If you utilize Pinterest, it's recommended that you pin at least 30 pins a day. Make sure they are quality pins that correlate with your brand. Pinterest is great for linking to your blog posts.
Create graphics and images for your content meant specifically for pinning. Add it to your own Pinterest profile and watch the traffic pour in. Pinterest also has a great business profile tool that will show you exactly how many times your pins have been seen re-pinned and clicked. It tracks the amount of organic traffic going to your content.
Now Instagram might be the very best option. It gives you maximum audience engagement opportunities. However, it's important to note, if you're working to build a following don't be spammy. What do we mean by that? Don't just go through and like hundreds of random pictures hoping people will follow your account.
This will trigger Instagram's spam censors and your account will be blocked. It's all about making the algorithm happy. Instead, go through and like 30 pictures at a time and comment meaningful engaging comments. Users will recognize this, especially if you're consistent. With consistent and genuine engagement, your following will grow. Promote your content in your Instagram stories and IGTV.
You should be doing everything in your power to make it easy for your audience to find your content. You can even find subreddits that fit your niche or business and promote your work on there. The possibilities are endless.
Reindexing updated content
Once you have updated your content you'll want to let Google know so it can crawl your site and see the changes you made.
You would then hope that Google will rank your content higher thanks to all the hard work you've done improving it.
How to re-submit your updated content for reindexing.
Go to Google Search console
Click the website that you would like to index content for
Click the URL INSPECTION tab ( See image )
Paste the URL for the updated post into the search bar and press enter
Google will go fetch you post or page
The press ' REQUEST INDEXING' ( See image )
This can take a few minutes.
Once do you'll see a notice telling you it has been added to the list for re-indexing
Now you have completed the reindexing process it's just a matter of time before Google crawls your site again. This can vary from a few hours to a couple of days.
Remember you can only resubmit for indexing a limited number of posts per week. We would only suggest reindexing a post once you have made significant changes to the content.
If you change the URL or Permalink you'll need to redirect the old URL to the new one then you don't lose any traffic whilst Google crawls your updated content.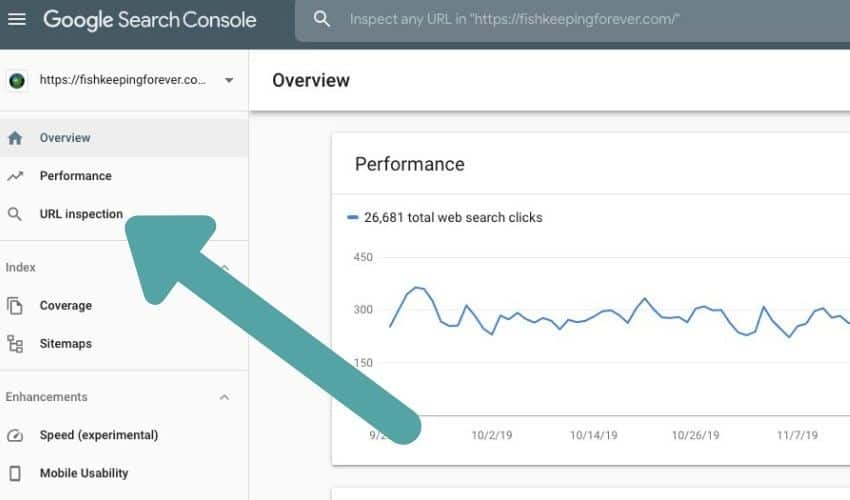 After entering the URL of the post or page you would like to reindex Google Search Console will crawl your post and hopefully ping back green ticks to say it's found it and it's available for reindexing.
Once this happens you can click the Request indexing button to tell Google that you have updated your old content and you'd like them to take another look at the post.
If the updated content is good you should see some better results in Google Serps within days even hours sometimes.
I have seen old content on page 2-3 of Google jump onto page 1 within hours.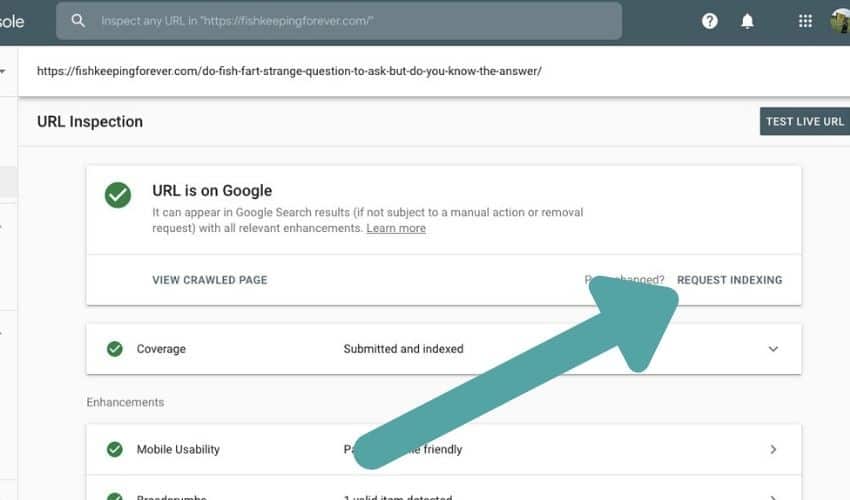 Conclusion: Should You Update Old Content
If you implement all of the above strategies and work hard to update old content, you're sure to see an uptick in traffic. Yes, it will take time to comb through your site, but it will be worth it. Taking the time to reindex content can drastically change your click-through rate, which in turn will increase your monetization capabilities.
Take a look at the traffic screenshot below. See the spike after 30 articles around 1-year-old was updated. Two months later you can see the huge spike as many of the updated articles increased in Google Rankings.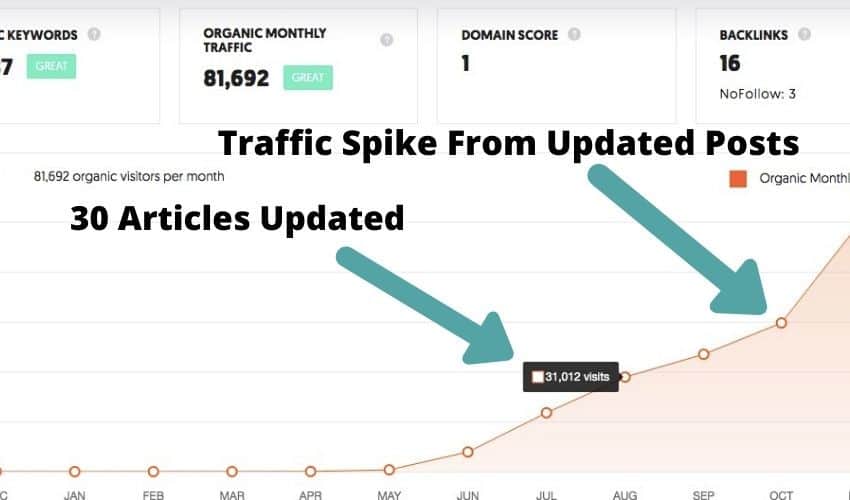 To briefly recap, start by checking your click-through rate. After that, take the time to analyze the quality of content you're producing. Next, take a look at your search traffic and implement some SEO strategies. Make sure your content includes inbound and outbound links. Fact-check and be certain your content is up to date. Double-check that your content is broken up and captivating. Lastly, take a look at how you're promoting your content and if it's effective.
If you break the process down into these steps, it'll feel less overwhelming and more empowering. Remember you have the power to make these changes and to get your content out there. That's exciting! It's time to update old content and put your site on the map.
Related Content You Might Find Interesting