I have been asked many times ' Where do you get your content from?' Well, You have several options when it comes to ordering content for your blog or website. If you need content written for your blog or niche website in a hurry you can get it done quickly and well written with Iwriter. Iwriter is a platform to order whatever kind of high-quality content you want from rock-bottom prices.
In this article, we will review the process of Ordering content from iWriter and take a look at the results in a future article.
There are many other content providers like BKAcontent, ContentDevelopmentPro, Textun and The Hoth. However, iWriter is simple, easy to order and cost-effective.
All articles submitted on Iwriter are put through Copyscape so you can guarantee that they are 100 percent plagiarism-free. If you need content written for whatever reason and you don't want to do it yourself, Iwriter is definitely worth considering for your needs. This Iwriter review has been put together to help you discover everything you need to know about the site and how it works, helping you decide if it is the right platform for you.
Are you considering placing ads on your site and making money from your traffic? If yes, Then checkout Ezoic! An amazing advertising platform for niche websites. Click here!
Ordering content from iWriter
It is extremely easy to order content via Iwriter and the steps involved are as follows.
Step 1 : Simply register an account as a client and press the button to create a request.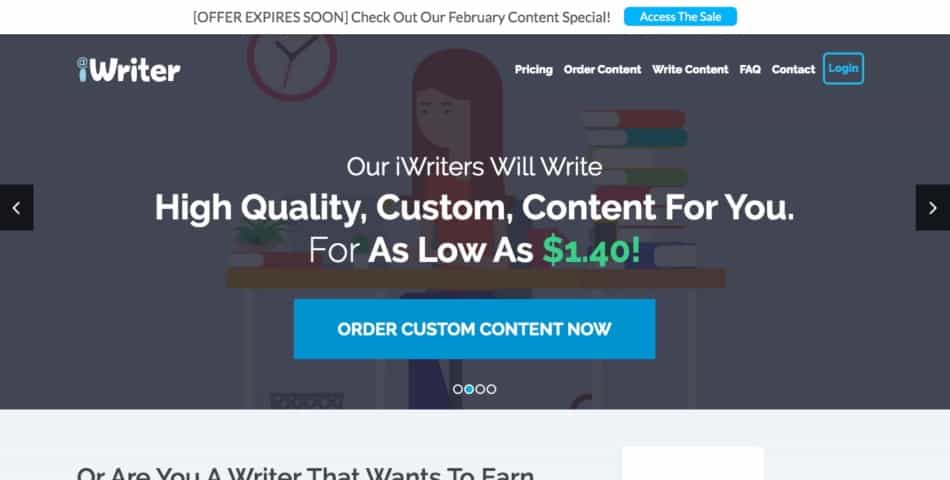 Step 2: You will then need to describe what you want to be written, assign it to a category and so on.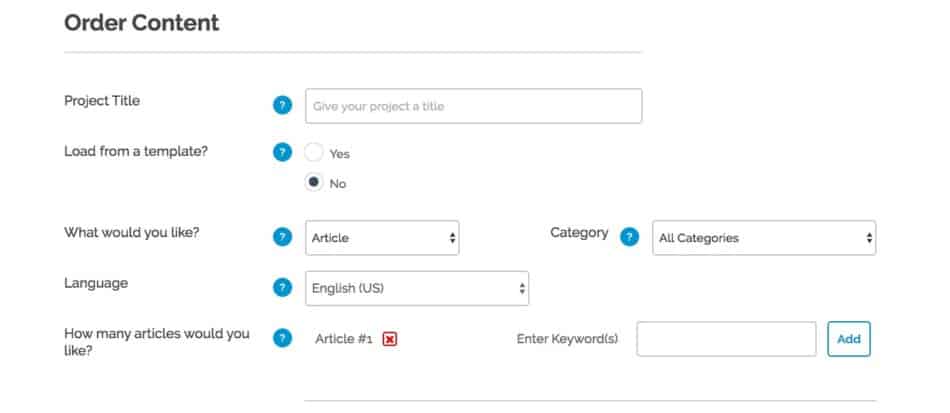 Select the level of the writer from Standard, Premium, Elite and Elite Plus and choose the length ( word count ) that you would like.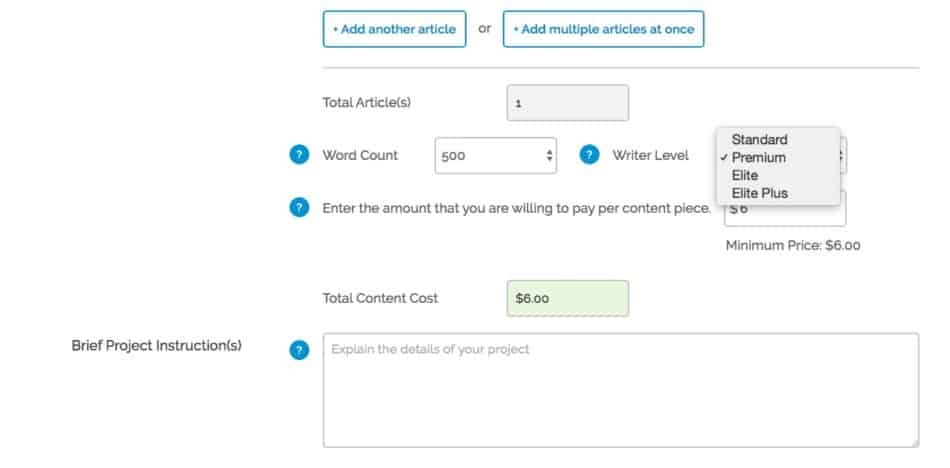 When you submit your article request, it will be put into the writing pool of clients, where it can be claimed and written right away. You can monitor the progress from your content creation process dashboard.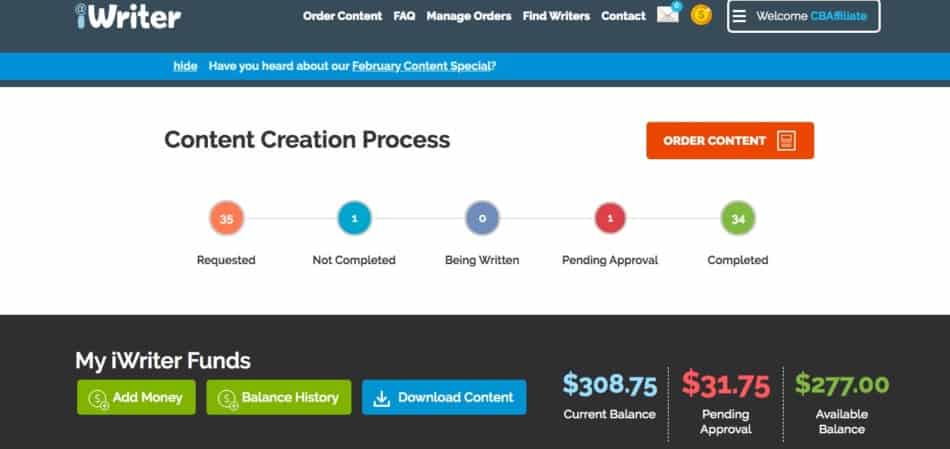 When you receive the article back, read it to see if you are happy with the result. You can then choose to either accept the article, reject it, or request a rewrite.
How much is content?
The price of content varies depending on how many words you need to be written and what level of writer that you want to complete your article. Yes, there are different levels and the higher you go, the better the quality should be due to the skill level of the writer. The four possible tiers are standard, premium, elite and elite plus. The rate for each of these levels for the most popular number of words is as follows.
Standard Writers
500 words will cost you $3.30
1000 words will cost you $8.25
1500 words will cost you $12.50
2000 words will cost you $15.50
Premium Writers
500 words will cost you $6.00
1000 words will cost you $11.50
1500 words will cost you $21.00
2000 words will cost you $33.00
Elite Writers
500 words will cost you $11.00
1000 words will cost you $20.25
1500 words will cost you $31.75
2000 words will cost you $44.00
Elite plus Writers ( Top Level )
500 words will cost you $39.00
1000 words will cost you $72.00
1500 words will cost you $108.50
2000 words will cost you $145.00
It is possible to order less than 500 words and more than 2000 words also, you can even order a complete eBook on Iwriter although this will obviously take a little longer to get back. These rates are set for the word count but you can tip writers if you really like their work. Tipping is not mandatory whatsoever, however!
How long does content take to be written?
When you request an article on Iwriter, this will usually be claimed very quickly by one of the loyal writers on the website. Typically within 4-6 hours. This will then be returned to you within just a few hours if you're lucky, or perhaps a day or so if you need more words written.
If so some reason, the writer claims your piece and does not finish the article, the time will eventually expire and it will be returned to the pool for another writer to reserve. In the majority of cases, your content will be completed within 24 hours and less, but there are exceptions to the rule.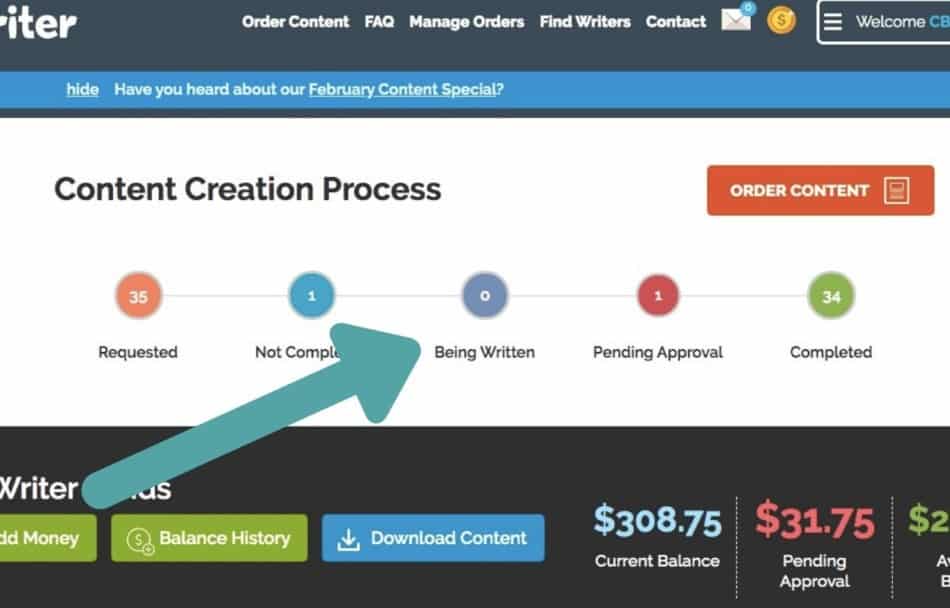 To increase the likelihood that your content will be claimed and worked on quickly, ensure that you are very specific in your instructions about what you are looking for and include any necessary sources that the writer may need.
Can you reject content if you are not happy?
The great thing about Iwriter is that you can reject content if you are not happy with it. You do not pay a single cent until you are happy with what has been delivered. There are writers from all over the world on Iwriter and if you feel like a writer has not followed your instructions or the quality just isn't there, you can hit that reject button.
Can you ask for a refund or a rewrite?
Once you have accepted an article, the money is taken from your iWriter wallet and you can no longer get a refund on that. So with this in mind, make sure that you are 100 percent happy with the content before you accept it.
You can, however, send back an article for the writer to rewrite. Perhaps they missed some keywords you requested, they need to clean up the grammar or remove some discrepancies. It is always advised to send an article back for rewrite rather than just downright reject it, there are writers who rely on the platform to make a living.
What is the quality of content like?
The quality of content on Iwriter is generally very good but obviously, you have more of a chance of quality content, the higher tier writer you choose. Every writer on Iwriter starts off as standard and they move up through the tiers depending on the more high star reviews that they get.
Requesting a standard writer might be a little bit more of a risk but remember, you can reject any content that you are not happy with.
Sometimes you need to kiss a lot of frogs to find a princess!
Some writers are obviously going to be more skilled than others on this type of content mill.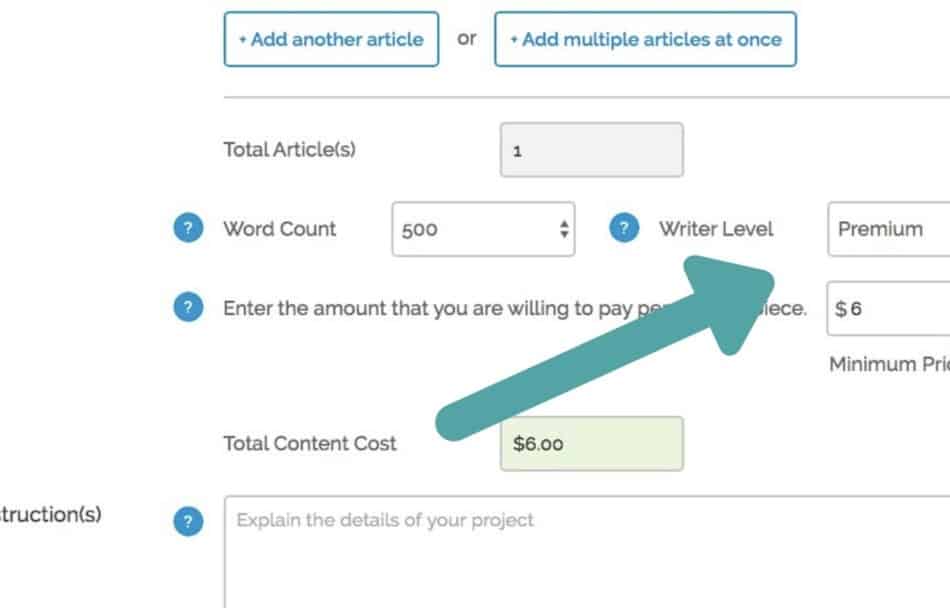 When you have found some writers who really deliver to your standards, you can add them to your favorite writer's list, which you can learn more about later. You may need to kiss a few frogs to find a princess.
But, when you do simply add them to your favorite list and you'll save time and money next time you order a piece of content. You can always take a look at the recommended writers list which will show you a star rating for all the different levels of writers.

Can any niche be written about?
Every niche that exists under the sun can be written about on Iwriter. You will need to categorize your request, this means that if you are looking for an article written about technology, for example, the writers skilled in technology can use the filter features to find you.
If what you are looking for isn't listing on the Iwriter categories, you can simply select other. Just as long as you provide details instructions in your request, there is going to be a writer who can and will deliver on your needs.
How to build a list of favorite writers
Building a list of favorite writers on the website means that you can send your requests out to a select few people, or even just one person. This is invaluable, especially if you have a specific writer in mind and don't want your request put into the writer's pool, where just about anybody can claim it.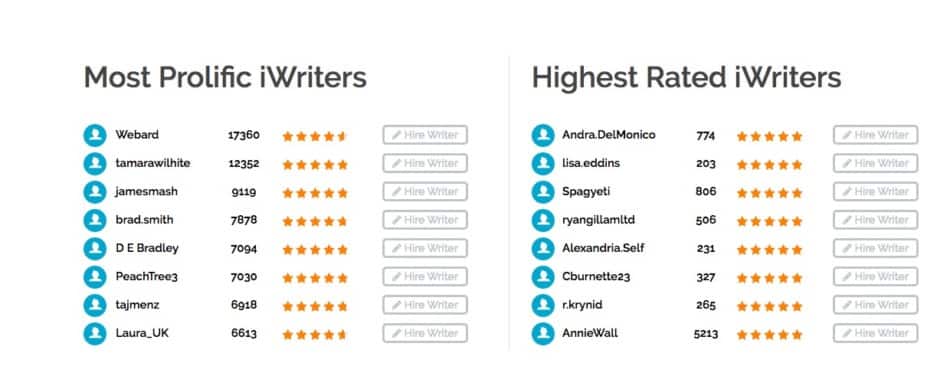 Making a special request will also give writers a little more cut of the cash – which is a great way to show your appreciation for their hard work.
When you accept an article, you have the chance to add the writer in question to your list of favorites. Doing this is beneficial to both you and them.
Making a template to make ordering quicker?
Setting out a big list of instructions for any article that you need completing can seem like an endless task, particularly if you have many requests to make. The best thing to do in this instance is to make a template that you can use over and over again.
You can make an order template on a word processing program and every time you need work completing, you can simply copy and paste this into Iwriter for your own convenience.
Your template could be called ' Reviews' Then everytime you want a review doing you simply click ' Review Template' and change the item title. All the information on the style and type of review you want will be pre-set in your template. This will save you time ordering similar content each time.
Alternatives to Iwriter
If you need content written online and want to explore other platforms, there are actually several other websites that are similar to Iwriter.
This is a platform where creators post different gigs and you can take advantage of their skills by purchasing their services. This includes writing but also design, voiceover and much more.
Upwork is a website where you can post any jobs and then writers/creators then bid how much they are willing to do the job for, they also include samples and other information about themselves.
Only you know completely, what type of voice you want your content to have. You can actually write your own content and get it edited by professionals on the websites that have been mentioned above.
This website is fairly similar to Iwriter and allows you to get high-quality content at affordable prices. Get whatever type of content you want to be written at BKAContent, the whole team is filled with skilled writers who know what you are looking for. Check out BKAcontents prices and services here.
The Results are in!
Conclusion: Ordering from iWriter
Hopefully, this Iwriter review has been beneficial to your requirements and has told you what you need to know. No matter what kind of content you are looking for, there are literally thousands of skilled writers available on Iwriter, with talents in a variety of different categories.
You can get high-quality articles and you don't have to pay until you are completely happy with the content that has been delivered. Make your first content request on Iwriter today and you are not going to be disappointed!