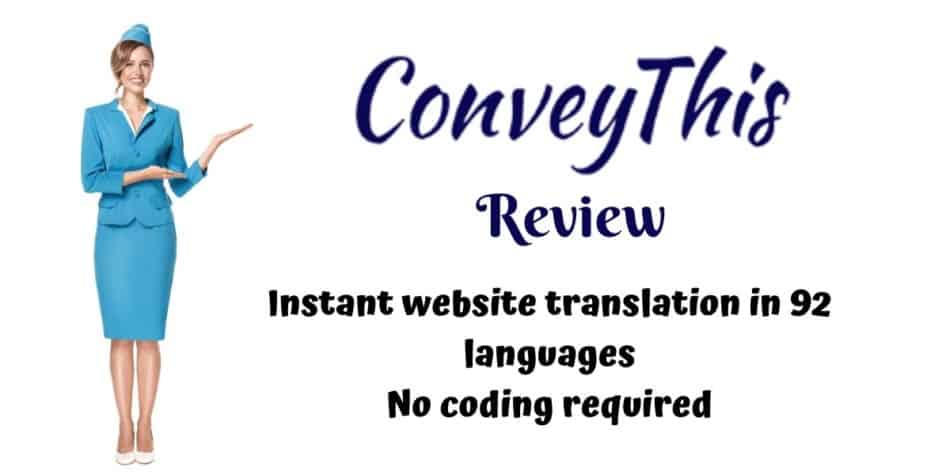 Have you ever thought of using more than one language on your WordPress website to market your products and services to a wider audience? English is the universal language and almost all people around the world can read and understand any article written in it. However, your website will be taken to the next level if it can translate to more than just the English language.
Don't be that website that settles for just serving one country and one specific language speaking audience, be someone who stands out. The language barrier is possible to eliminate with the use of ConveyThis, a plugin that works on translating your website and its content, to more than one language at the click of a button. No special CSS coding or redirecting.
Here is a comprehensive review including a video of me installing this plugin directly on one of my Niche Websites live.
What is ConveyThis?
The developers market itself as a one-stop-shop for those who are looking for centralized, smart, and end-to-end website translation management. Basically, it is a plugin that can be used for website translation.
It can be integrated into hundreds of platforms including WordPress, BigCommerce, Shopify, and Weebly. If you are using any of these platforms and you want to find something that can translate your website or store to more than one language, this plugin can do the work for you.
The language translating plugin will have your website global-ready within minutes. No expensive CSS coding or redirecting to another domain.
I have tested many and I mean many plugins on my niche websites and this was by far the easiest plugin to install which has the biggest impact instantly.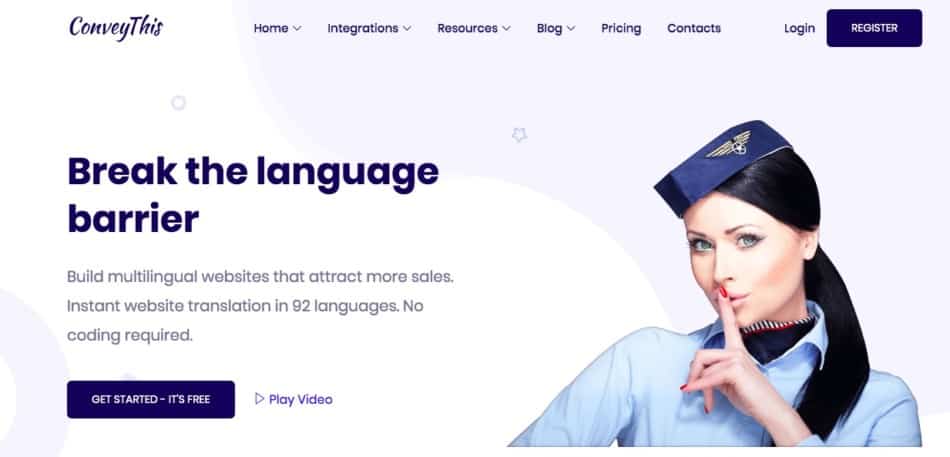 Features of ConveyThis
This plugin has a lot going for it and I probably won't do it justice in this short blog and video. However, I'm going to point out some of the main features that really impressed me.
Free version translates 1 language
One of the greatest features of ConveyThis is its ability to be installed for free!
Yes, we all love FREE, especially me!
But, like all things within the affiliate marketing and WordPress world, if it's free, it will have its limitations and ConveyThis is no different. However, If you want to simply translate your website from one language to another then you're good to go with the Free version of this plugin.
Translating your website doesn't have to be expensive or complicated, especially if you want to try the service out first without committing yourself financially.
Installing the free version of ConveyThis will give you unlimited access to the plugin, including a 1-language translation. If you don't want many languages for your website, the free version is a good start.
One way plugins attract users is by offering a free version of their applications. Some plugins that you will find on the internet in terms of website translation have free versions too but they are commonly limited to 7 or 14 days and you'll need to add your card details before they will even give you access to any of their features.
This plugin is different; it is very open and transparent in what you get for FREE and in the paid versions.
Unlike other plugins within this field, the free version of ConveyThis has no expiry date. However, you can expect that the services you will access are limited. Not all features are accessible, which is understandable because one way or another, you will be enticed to pay for other great benefits of the plugin.
After all, the investment in producing and launching a piece of software like this can run into hundreds of thousands of dollars and like any business, they need to recoup their investment and start earning a profit.
If you are operating your website or your online store on a budget, the free version of this plugin will allow you to use its features limitedly. This is still ideal for you rather than using nothing for website translation. Your audience can at least translate your page into one other language.
90 Different Languages To Choose From.
While other website owners enjoy the free version of this language translation plugin, there are individuals and companies that opt for the paid version. The benefits are overflowing when you choose to pay for their services.
One best feature you can get is up to 90 different languages to choose from. This means that your audience and buyers will have more options to select. You can start bringing your business globally by using the language options offered by ConveyThis.
You can have access to over 90 different languages if you choose the paid version of this plugin. Fortunately, there are many different levels of subscriptions and paid plans to choose from which will offer flexibility for all levels of businesses.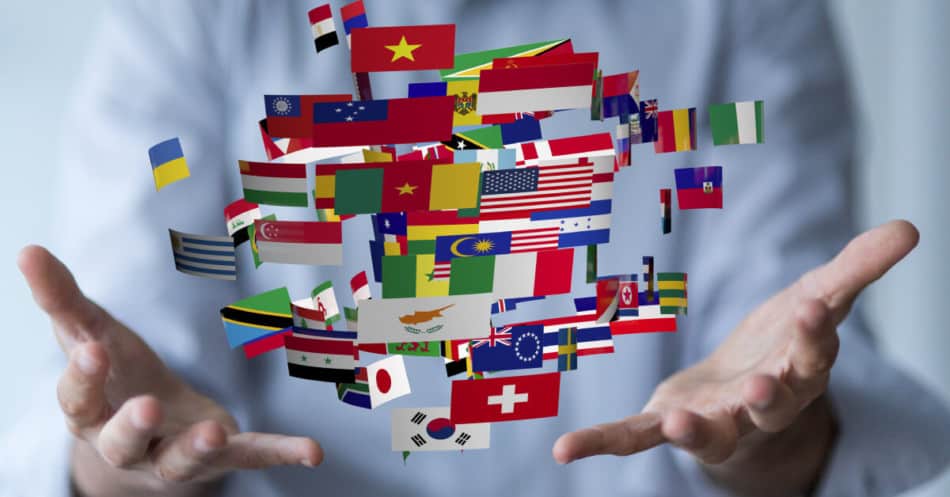 Your membership will depend on the services you want to receive. You can pay for the paid version monthly or annually. The paid versions are divided into 4 categories: Business, Pro, Pro Plus, and Enterprise.
For monthly, the Business membership is priced at $19.99 per month. This already includes 5 languages, 100,000 translated words, 100,000 monthly page views, and premium support.
The Pro Plan is priced at $49 per month with additional services such as 400,000 translated words, 400,000 monthly page views, unlimited multisite, unlimited team members, and domain backup.
The Pro Plus plan can be availed at $199 per month with additional 10,000,000 translated words and monthly page views and CSV import/export on top of the services offered by the Business and Pro Plan.
The last plan is the Enterprise, which is sold at $399 per month.
If you opt for the yearly plan, you can save up to one-month fees. Annually, you will pay $219.89 for Business, $539 for Pro, $2,189 for Pro Plus, and $4,389 for the Enterprise.
A one-month fee is a big saving already for stable businesses. If you want to save your budget for your website, I recommend you getting the annual plans especially if you are planning to use ConveyThis for a longer period.
Suitable for Blogs, Shopify Stores and other Types of Websites
ConveyThis is a flexible plugin, that's one thing for sure. It can be integrated into many types of websites that are built as blogs, online stores, and so on. Whether you have a blog or you are solely handling an online store, you can freely use this plugin to start translating your page into the language your customers prefer.
Shopify, WooCommerce, BigCommerce, Magento, you name it. This website translation plugin fits all types of websites and many online businesses.
Let's see how you install Conveythis on Shopify Stores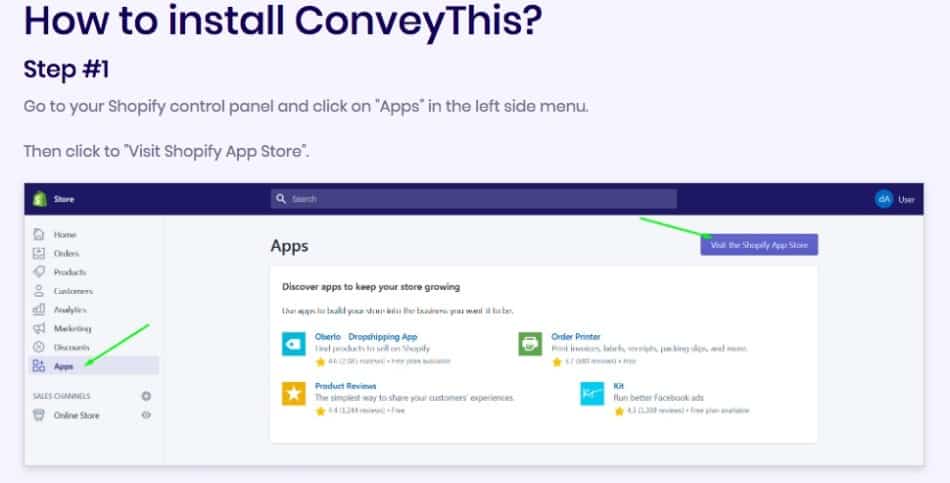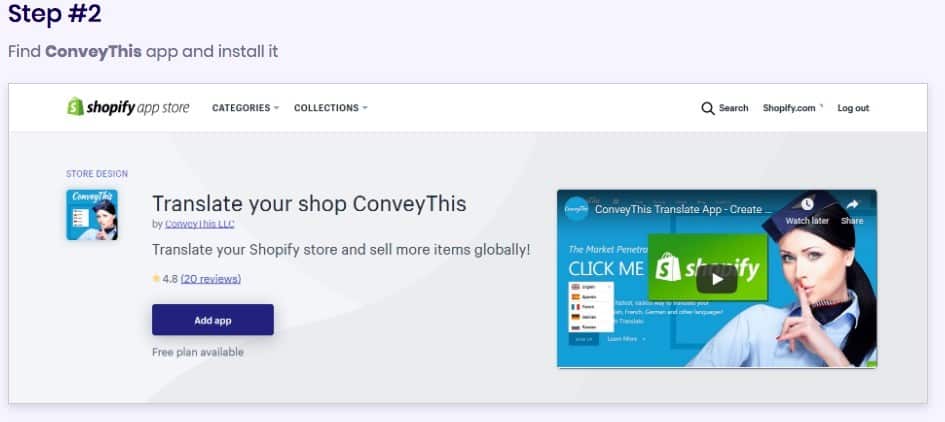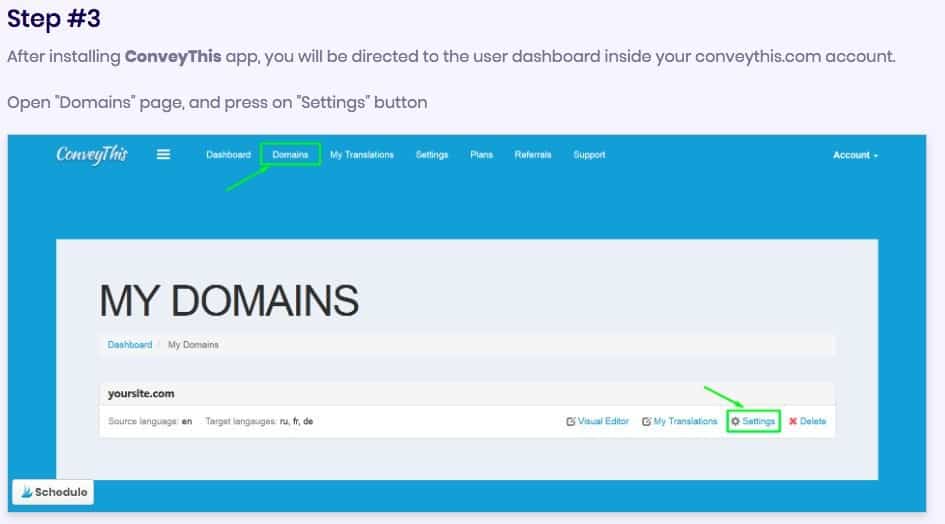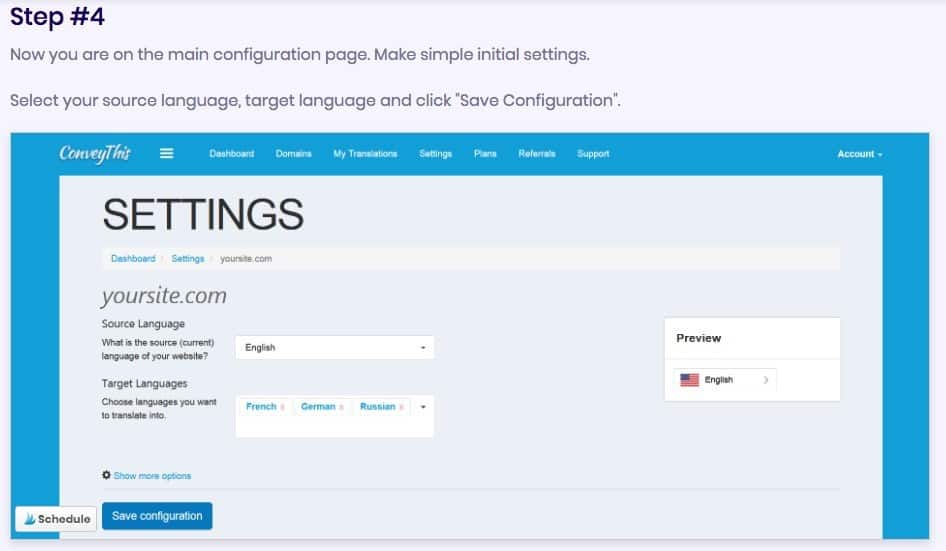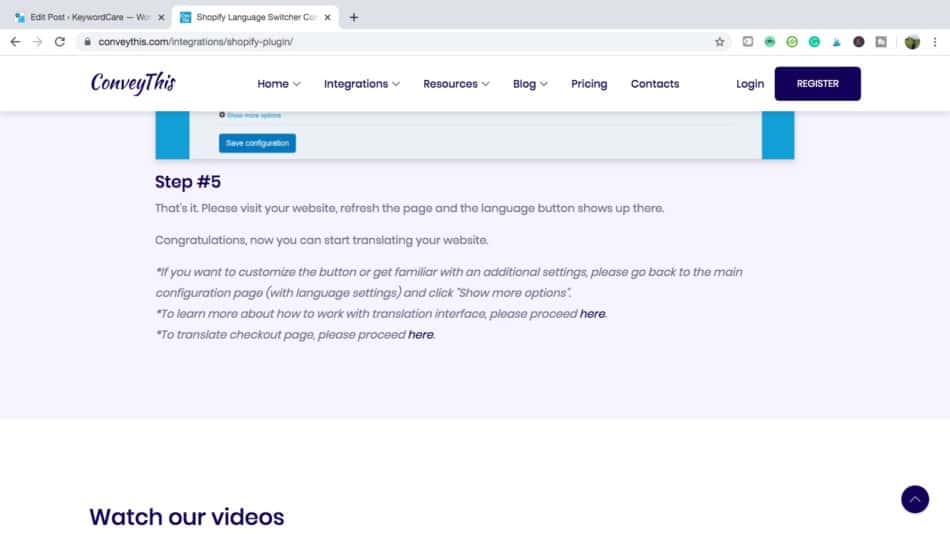 Great for Improving SEO and Website Rankings
SEO is an important tool that your website should have if you want to improve your rankings. With the proper use of SEO, your page or site can be listed on the first page of Google and other search engines once your customers or audience search for a certain keyword related to your content.
So, How can ConveyThis help?
This is not just a software plugin that does simple website translation. It is also great for improving SEO and website rankings. If you are an SEO specialist, you can use this application to create a multilingual website that you can leverage in order to attract more search engine traffic.
The use of multilingual websites is a powerful tool, especially if you want to reach the global market. Only a few people know this because they think that using the English language is enough.
Truth be told, there are millions of online users who prefer to read a website on their own languages for better understanding. Some even prefer to read it in English and the local language.
ConveyThis is very effective to attract an audience who wants to use their own language to find what they are searching for. For you and your website, this could mean a big thing. This can increase your sales and boost traffic to your website. Plus, you will get people to trust you because they know that your website is compatible with all countries with language barriers.
Why limit your audience and sales to just visitors that speak English?
Installation Takes Minutes
Another reason why ConveyThis is gaining popularity is because of its easy installation. It truly is a website translation plugin for WordPress that works in as fast as 5 minutes.
My video will demonstrate how easy it was to install and activate the plugin. You'll see that within seconds I turned my Niche Website, written and published in English into a Global Website translated into Spanish.
Depending on the speed of your internet connection, ConveyThis takes only a couple of minutes to install. Just like other WordPress plugins you can find online, the waiting time for application is very short.
You don't need to wait for hours to complete the website download, which is very convenient if you want to maximize your time while using your website.
To install the plugin, having a WordPress website is much easier because you can directly search for it from the WP plugins panel. Here are the steps for your seamless installation of the plugin.
Search for ConveyThis using the WP plugins panel.
Click install and then activate.
Start setting up your account by signing up at https://conveythis.com/account/register
Confirm your account via an email link then head to your Dashboard.
You will see a unique API key on your Dashboard.
To start plugging in, go to the configuration page of your plugin. Make sure that you are on your WP admin site.
Paste the API key you recently copied.
You should select the source language and the other languages you wish to target
You can customize the language switcher and be able to preview it for your review.
Save changes so that the language button is displayed on your website.
Your reader can now click the button and translate the first page of your website.
Going back to your WP Admin and plugin configuration page will allow you to edit the website translation setting. You can always make changes and save it according to your preference.
There are many settings you can choose, like where you want the language flag to be placed and what that will look like. I simply used the out-of-the-box settings that are preset.
Increased Sales by Localizing their Language
Finally, a good feature of ConveyThis is helping users increase their sales by localizing their language. Although English is the universal language and most websites are written in it, there are still local customers and audiences who demand local language when they browse the internet.
If you are trying to target your location to make sales, this plugin is a convenient tool to assist you. Since it uses over 90 languages, your audience can choose the language he/she prefers to better understand your content or the products and services you are trying to offer. Up to 5 different languages can be selected.
Conclusion: ConveyThis Review | Instant Website Translation Plugin
ConveyThis is indeed a great website translator for many website owners and users. If you want to experience a universal service, there's no harm in checking it out.
When I first decided to translate my websites into multi-languages I thought I would have to set up a separate website for each language with its own domain name. But, that wasn't the case.