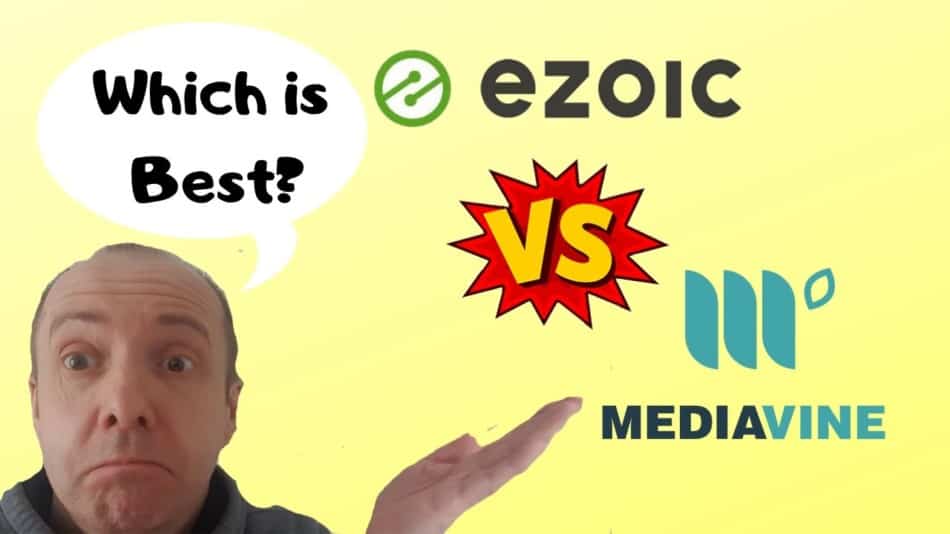 Oh no, not another Which is best blogs! Ha Ha Well not really, this is not a conventional 'which is best' blog because to be honest, I don't do conventional. However, I am going to tell you my personal opinion on the two. Ezoic vs Mediavine is a long and continuing argument within the affiliate marketing world and will continue to be so for a lot longer. However, I'm not here to tell you which is best. Well, In a way I am. I'll explain why you could choose either Ezoic or Mediavine depending on what you're looking for. I'm simply going to share my experience and let you figure it out yourself, whether that's Ezoic or Mediavine. I think there's a name for that – 'Projecting your thoughts' – or something. Anyway, let's get into this. Ezoic or Mediavine? Why am I talking about it and who am I to judge? Well, I'm a customer of both for a start and secondly, I have had some experience with both for some time now with several websites, which puts me in a good position to point out the Good and Bad about both. Let's start with the basics. How much Traffic do you Need to Sign Up for Either? Both companies have a minimum level of traffic or visitors, needed to become a partner with them. That's because they sell advertising space on each website and it needs to be worth their while. The setup costs and time spent nursing you through the initial process has to be worth their while, Right? The traffic needed for your first site is: Ezoic: 10,000 Sessions per monthMediavine: 25,000 sessions per month Sessions are unique visitors to your site, not pageviews. Otherwise, you could get only a hand full of people who flick through dozens of pages which would look good in your pageview stats but are fewer people for either Ezoic or Mediavine to target with ads and therefore not as much potential for selling products through ad space. The traffic needed to add a second or third site is: Ezoic: 5000 sessions per monthMediavine: 10,000 sessions per month Once you have your first site set up with either Ezoic or Mediavine, it's much easier and quicker for them to add a second, third or more sites without the need to vet or process you as a new customer. Hence, they allow you in with lower traffic. Plus, they trust the quality of your work at that point. How Long and Easy is it to Get Approved? With both companies, the process is relatively short. My experience with Ezoic has always taken around 5-10 days maximum and with Mediavine, the application process is longer around 10-14 days. This is partly because Mediavine is stricter than Ezoic and only allow really good quality sites through the process. Why? So, they can approach the bigger Blue-chip and Forbes 500 companies to sell your ad space to. Which in return commands a higher price. That's good for them and good for you! The process is pretty painless with each application to be fair, but like-for-like, Mediavine is easier as they place all the ad sets for you once approved. You simply give them access to your Google Analytics then download a sheet from your Google Dashboard (which is very easy to get), then sign a contract. Oh, yes… Let's mention the contracts before I forget. With Ezoic there is no contract as such; it's simple to get out if you decide to move to another company like Mediavine or Adthrive. However, once you sign up with Mediavine, you enter into a contract and should you wish to leave or move, then you'll need to give them enough notice to quit. Why? Because they buy your ad space in advance, so they often sell ads on your site 2-3 months in advance; promising the buyer that their adverts will be on your site for a set period of time. Which is totally understandable. If you want to learn more about Ezoic's terms and conditions and revenue details, or even join them you can click here. Do you Need to Redirect DNS with Ezoic No, now I'm glad I'm getting the chance to tell you this as many people think that because Ezoic asks you to redirect your name server to them when you first sign up, that unless you do it, they will refuse you. They will ask, trust me and they will ask again! But you can say 'no' and choose to place the ad sets manually (Ad sets are just the ads, how many and where). This is done through a Chrome extension plugin and is very simple to do. By not redirecting your DNS you have full control over your site: If you have any issues with your server or hosting your hosting company like Siteground, for instance, will take care of you as normal. Once you give your DNS over to Ezoic, you lose that safety net from your hosting supplier. Why do They Ask for DNS Redirection? Ezoic has a lot of apps and plugins that can help your site. They also play around with the ad sets and experiment with placements to get you the best return on your ads. Having your DNS gives them the flexibility to get the most out of your ads and allows their AI technology to learn and grow with more user experience. However, in my experience and I reiterate, it is my opinion, and not founded on any technical jargon – you don't need to do that. They designed a plugin so why not use it? It works just fine! Which Pays More? Ezoic or Mediavine? Ah, I knew you'd get to this point sooner or later and why not. We are in it for the money, right? Let's not be shy about these things. Again, I can only go by my experience and from what I have experienced with two sites on each. They are both in the same niche and in fact, the same sites moved from Ezoic over to Mediavine. Mediavine wins hands down! So, Mediavine wins for me on the RMP Take a look at some of MY screenshots below. Like, I say, this is my personal journey with both Ezoic and Mediavine but there's probably many of you reading this now shouting… Ezoic is the best! If that's the case for you, then great! You must have played around and tested Ezoic to the max to get the results you're seeing. And that's great! But for me I either didn't spend enough time playing around with placements or testing enough ads. But I simply don't have the time to do that. That's why I love Mediavine and rank it above Ezoic on a side-by-side comparison because Mediavine does all the hard work for you and have found the perfect combination of ads and placements to see the best return from day one. Click here to learn all about Mediavine or even apply to join their community if you have 25,000 page views or more a month. Does Mediavine Pay Top Dollar from Day One? Almost, you have to allow 7-10 days for Mediavine to find the right buyer for your ads. In the first few days, they will place generic ads on your site and you'll see a small RPM (Revenue Per Thousand Visitors) until they find the right match for your niche and audience. Typically, it's about 10 days before you suddenly see your RPM skyrocket, then you know they have found a great match for your site. Then sit back and watch the ad revenue build up each day. How Much was I Making with Each? It would be very difficult to give an exact comparison but I can give you some averages for each site, which are very accurate as they are the same sites with the same content simply moved from one to another. Below is a screenshot from one of my pet niche websites which was with Ezoic through the months of Oct-Feb – which was then moved to Mediavine mid-way through Feb 2020. As you can see from the screenshot above the average RPM was around $9-$11. Even for the month of December, which is the best month for RPM, this was still only $13. Now compare that same site with the first month with Mediavine. The same content and the same traffic. Okay, traffic has gone up slightly but that amount of traffic will not drastically affect RMP. So, it's a fair comparison. This site was transferred on the 17th March and has only been running Mediavine ads for the past 35 days. So, let's take the first 30 days on Mediavine. Take a look at the image below… First 30 Days with Mediavine As you can see the RMP with Mediavine is averaging around $15 and that's the first 30 days which are the worst as the ads are not yet running or been sold at the best rates yet. Even so, you can see that some days it hit $17 which is almost double some of the days I was seeing with Ezoic. Since then, the RMP has increased and I have seen it balancing out at around $17. Then you need to take into consideration video ads, which I'll talk about next. Add this into the RMP and I'm now seeing a whopping $21 per thousand visitors. In simple terms I'm receiving in cash terms, more than double each month going into my bank account. Do You Get Paid Straight Away? Both companies will run ads on your site for a number of months before you get paid. Ezoic is better in this respect as you get paid after two months but with Mediavine, you have to wait for three months before you receive the first deposit into your account. Which to be honest is a total pain, but, hey ho. I know the money is coming to me and I'll just have to wait. Video Ads and Overlays Mediavine is leading the way with video ads at the moment and I can see it being a massive focus in the years to come. Ezoic is definitely being left behind at present with this as they don't currently offer video ads through their service. However, when you read this article, they may have started to run video ads. This is an image of a video ad on one of my niche websites What are video ads? Basically, you place a video from YouTube, or one made specifically for each post or website, which they then can sell advertising space at the beginning of your ad. Very similar to native ad space, they sell your video ad space to the highest bidder. Video ads are now and will continue to fetch a handsome price for ads placed on or within your video. I was confused at first what needed to be done, but in the end, it was really easy and I can't believe how much you get paid for a simple 30-40 second ad. As with any video, it pays to make the best video possible because in the same way that ads pay within your content, video ads pay more if the viewer plays and watches the video throughout. The longer they watch the video the more you earn. So, it's in your interest to make a specific video for each blog post that is relevant to the topic and article. This will ensure your visitors click the video and watch it for longer. You can see the overlay highlighted here. No sound and they only pop up for 10 seconds approx. Sounds like too much work? I agree, if you don't have a YouTube channel or lack the ability to make lots and lots of videos – then you can cheat! Well, I say cheat, it's actually recommended by Mediavine to start earning something from video ads even if it's not as much as you could make with specifically targeted videos. As you can see this, is a simple generic animated video ad that I placed on the home page of my website. Mediavine then placed this video where I don't have any others throughout the website. So, if I have made a specific video for a certain post then this generic video WILL NOT be played on that page. This ensures you earn as much as possible from the specific video that you have put a lot of time, effort and money into. But, on all the other pages where I have no video, they place my animated welcome video. This means I can earn a video ad revenue from every single page on my site. How cool is that! Learn more about Ezoic here Interesting Data Spotted! Take a look at the video I recorded above to see some interesting information and data about Google crawling your site. There seems to be an issue with how easy it is for Google to crawl a website when running Ezoic Ads compared to Mediavine. In simple terms (you can see I'm a simple man), it looks from my untrained eye that it's much easier for Google to come to your site, find your content and rank it. It seems to spend more time on your site when running Mediavine compared to when I had Ezoic. Just watch the video and you can make your own mind up about this. Learn what this chart means by watching my video above Conclusion: Which is best Ezoic or Mediavine? Here you go, plain and simple (there's that word again) it's…. Drumroll Mediavine for me! I have said it before and I will say it again, this is my opinion and I have good data to back up my claim and I have experienced both companies and found that Mediavine wins on several factors: Higher RPMGreat community on FBAwesome customer serviceVideo adsOverlaysEasier to set upBetter user experienceCleaner site If you've found a better experience with Ezoic or any other company, we'd like to hear from you. Leave a comment on our video on YouTube. Now you would think with an affiliate program for Ezoic, which is here AFFILIATE LINK TO EZOIC by the way, if you want to check them out, I would be pushing Ezoic to you! But I will always be open and honest and give you my opinion as I see it. The power of the internet and owning my own website like this one gives me the freedom to say it as I see it. And at the moment I see Mediavine as the clear winner for me. Good luck with your sites and I hope whichever you go with whether it's Ezoic or Mediavine, it's the best choice for you!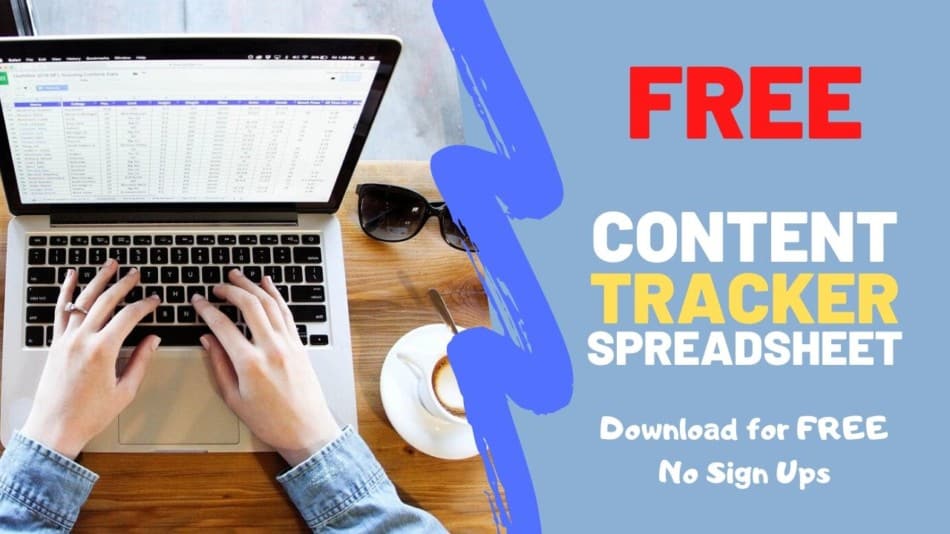 Having your own copy of the articles you have written for your website is one good strategy to keep track of everything. Sometimes, it's hard to remember every topic that you uploaded, especially if the website template you are using doesn't allow you to backtrack the blogs you wrote years ago. That's why I use a content tracker spreadsheet. This is where the importance of owning a good content template comes in. It's very easy to forget what articles you actually have uploaded and made public; let alone all the content you have saved in drafts. A good content template spreadsheet is something that you need if you want to be a successful blogger in this industry where competition is very stiff. Having a good spreadsheet is also good for keeping a track of your finances and ongoing outsourced jobs plus many other factors. The biggest reason I keep a good content spreadsheet and use it religiously is for when I ever come to sell a site. Last year, I sold two sites and the first thing the new buyers asked me was: 'How much content do you have, and how many words. What topics have you covered and how can I see them all?' Wow, I had not thought of that and had to quickly go through my entire content on both sites and add them to a spreadsheet manually. It was very time consuming but without this, the new buyers were going to drop out of the sale. Lesson Learnt! I now make a spreadsheet for every niche website I have from day one and fill it in every day. Without fail! I live and die by my content trackers. Why Having a Content Template is Important 1) A content template helps you track your blogs Basically, a content template can help you keep track of your published content. Tracking the content you publish is important so that you can avoid plagiarism, especially when you are planning to sell your website. Once your site is put under a new owner, the content and blogs are not considered as your own anymore. It's vital that you have a list of what you wrote before in order to avoid complications especially when you are looking for something new for your new website. 2) It helps you become an organized blogger Being an organized blogger is the best thing ever. Not everyone succeeds in becoming a blogger who stands out. One way you can survive the stiff competition is by being aware of the articles you wrote, so you can claim your ownership of them. If you have a content tracker spreadsheet saved on your computer, you can easily search for the topics you want to check and compare them to other content or website that you think is copying your ideas. being an organized blogger will help you discover the websites that are trying to steal your content! 3) It serves as your guide whenever you want to update your content How will you be able to update your content if you are lost on track? One good thing about having your own content tracker is that it serves as your guide to do updates. With this tool, you can easily search for the articles you want to update. The rows and columns provide you with enough information so you can easily find the content in your blog. You don't have to scroll down or browse your website for the whole day just to find the article you are looking for. It's pretty easy to find the date of publishing if you have a content tracker spreadsheet to hand. 4) You can get good topic ideas if you have a list of what you wrote already If you are someone who does content writing seriously, a content tracker spreadsheet is your best friend. If you list down all your topics and articles in the spreadsheet, you will have a good overview of what's published already. You can then start brainstorming new topics that are not yet in the template. This means that with the help of this excel sheet, you can think of good topics to write without thinking too much about it. 5) It's for record-keeping Finally, having a content template is like running a business. You need it for record-keeping. Your articles serve as your inventory and you need to somehow maintain a list in order to check if you are writing the right number of articles for the month. You will be needing this tool when you are selling content or websites. It's best if you can keep something for yourself every time you serve your clients. In this way, you can promote the originality of your blogs regardless of the date and time you wrote them. You can also keep track of wordcount and cost per article and an overall view of the money you have spent on the content. Again, great information to work out the ROI on each article and the website in general. An example of one of my content tracker spreadsheets Where can I get a good content template? It's very easy to get a good content template for your blogs. You can simply use Excel Spreadsheets and make your own with all the tabs and columns you need. However, if you're not very familiar or good with things like that, I'm happy to share the spreadsheet I use for FREE. No, Email subscriptions or Fees! I have developed a simple and easy to use spreadsheet of my own and I want to share it with you. You can click the link below to download so you don't have to worry about how you can organize your content and articles. You don't have to start from scratch. You can use my format if you want to save yourself from the hassle of creating your own content template. Get my FREE Template Here! What Other Benefits can I get from Using a Spreadsheet? On top of having a tool that can help you organize your content; your spreadsheet could also be customizable depending on your taste and preference. You can add colors, adjust the size of the rows and columns, and put borders within each sheet. If you have spare time to go through the details, you can also attach pictures that can motivate your soul as a blogger. Becoming successful in this industry also relies on how you inspire yourself as a blogger. The FREE content tracker I have provided a link to download is very basic but perfect for anyone with a small to medium niche website. Anywhere from 1-1000 article can easily be tracked and recorded on this spreadsheet. If you would like to create something more customizable, I suggest learning how to use Google Sheets or paying someone to do this for you. I found a great Youtube video Tutorial on how to create your own Content spreadsheet which I have added below. https://youtu.be/FIkZ1sPmKNw These content templates should be versatile and can grow as your business grows. You can also use them for your own finances. I know that QuickBooks and TurboTax are popular software for bloggers who want to keep track of their earnings. But, if you don't want to use them, you can settle to a conventional way to keep a record of your earnings. You can use the same content template. Just create another sheet tab and use a format you are familiar with. Organize the sheet and use formulas and graphs to make it more appealing and easier to use. Also, your own content template can be used as a calendar. It's easier to make your own calendar in a spreadsheet because of the grids and borders in it. Plus, if you are using the same template for your content, websites, and blogs, it will be easier for you to access your schedule related to your tasks. With this type of content template, you can be more organized by using a calendar placed in the same content tracker you have. Conclusion: Why Do You Need a Content Tracker Spreadsheet? The benefits of having your own content template are endless. You just have to be resourceful to discover the best things that it can do for your life as a blogger. My intention was to never sell a website but when the offer comes, you'll be glad you have all your content organized and in one place. It can increase the value of your website and attract more buyers.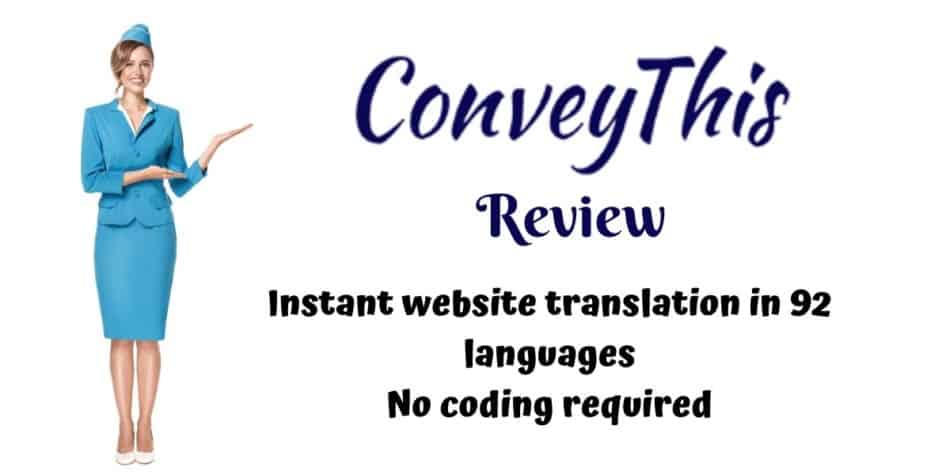 Have you ever thought of using more than one language on your WordPress website to market your products and services to a wider audience? English is the universal language and almost all people around the world can read and understand any article written in it. However, your website will be taken to the next level if it can translate to more than just the English language. Don't be that website that settles for just serving one country and one specific language speaking audience, be someone who stands out. The language barrier is possible to eliminate with the use of ConveyThis, a plugin that works on translating your website and its content, to more than one language at the click of a button. No special CSS coding or redirecting. Here is a comprehensive review including a video of me installing this plugin directly on one of my Niche Websites live. https://youtu.be/5mDa1c0aPls What is ConveyThis? The developers market itself as a one-stop-shop for those who are looking for centralized, smart, and end-to-end website translation management. Basically, it is a plugin that can be used for website translation. It can be integrated into hundreds of platforms including WordPress, BigCommerce, Shopify, and Weebly. If you are using any of these platforms and you want to find something that can translate your website or store to more than one language, this plugin can do the work for you. The language translating plugin will have your website global-ready within minutes. No expensive CSS coding or redirecting to another domain. I have tested many and I mean many plugins on my niche websites and this was by far the easiest plugin to install which has the biggest impact instantly. Features of ConveyThis This plugin has a lot going for it and I probably won't do it justice in this short blog and video. However, I'm going to point out some of the main features that really impressed me. Free version translates 1 language One of the greatest features of ConveyThis is its ability to be installed for free! Yes, we all love FREE, especially me! But, like all things within the affiliate marketing and WordPress world, if it's free, it will have its limitations and ConveyThis is no different. However, If you want to simply translate your website from one language to another then you're good to go with the Free version of this plugin. Translating your website doesn't have to be expensive or complicated, especially if you want to try the service out first without committing yourself financially. Installing the free version of ConveyThis will give you unlimited access to the plugin, including a 1-language translation. If you don't want many languages for your website, the free version is a good start. One way plugins attract users is by offering a free version of their applications. Some plugins that you will find on the internet in terms of website translation have free versions too but they are commonly limited to 7 or 14 days and you'll need to add your card details before they will even give you access to any of their features. This plugin is different; it is very open and transparent in what you get for FREE and in the paid versions. Unlike other plugins within this field, the free version of ConveyThis has no expiry date. However, you can expect that the services you will access are limited. Not all features are accessible, which is understandable because one way or another, you will be enticed to pay for other great benefits of the plugin. After all, the investment in producing and launching a piece of software like this can run into hundreds of thousands of dollars and like any business, they need to recoup their investment and start earning a profit. If you are operating your website or your online store on a budget, the free version of this plugin will allow you to use its features limitedly. This is still ideal for you rather than using nothing for website translation. Your audience can at least translate your page into one other language. Check out ConveyThis here! 90 Different Languages To Choose From. While other website owners enjoy the free version of this language translation plugin, there are individuals and companies that opt for the paid version. The benefits are overflowing when you choose to pay for their services. One best feature you can get is up to 90 different languages to choose from. This means that your audience and buyers will have more options to select. You can start bringing your business globally by using the language options offered by ConveyThis. You can have access to over 90 different languages if you choose the paid version of this plugin. Fortunately, there are many different levels of subscriptions and paid plans to choose from which will offer flexibility for all levels of businesses. Your membership will depend on the services you want to receive. You can pay for the paid version monthly or annually. The paid versions are divided into 4 categories: Business, Pro, Pro Plus, and Enterprise. For monthly, the Business membership is priced at $19.99 per month. This already includes 5 languages, 100,000 translated words, 100,000 monthly page views, and premium support. The Pro Plan is priced at $49 per month with additional services such as 400,000 translated words, 400,000 monthly page views, unlimited multisite, unlimited team members, and domain backup. The Pro Plus plan can be availed at $199 per month with additional 10,000,000 translated words and monthly page views and CSV import/export on top of the services offered by the Business and Pro Plan. The last plan is the Enterprise, which is sold at $399 per month. If you opt for the yearly plan, you can save up to one-month fees. Annually, you will pay $219.89 for Business, $539 for Pro, $2,189 for Pro Plus, and $4,389 for the Enterprise. A one-month fee is a big saving already for stable businesses. If you want to save your budget for your website, I recommend you getting the annual plans especially if you are planning to use ConveyThis for a longer period. Suitable for Blogs, Shopify Stores and other Types of Websites ConveyThis is a flexible plugin, that's one thing for sure. It can be integrated into many types of websites that are built as blogs, online stores, and so on. Whether you have a blog or you are solely handling an online store, you can freely use this plugin to start translating your page into the language your customers prefer. Shopify, WooCommerce, BigCommerce, Magento, you name it. This website translation plugin fits all types of websites and many online businesses. Let's see how you install Conveythis on Shopify Stores Great for Improving SEO and Website Rankings SEO is an important tool that your website should have if you want to improve your rankings. With the proper use of SEO, your page or site can be listed on the first page of Google and other search engines once your customers or audience search for a certain keyword related to your content. So, How can ConveyThis help? This is not just a software plugin that does simple website translation. It is also great for improving SEO and website rankings. If you are an SEO specialist, you can use this application to create a multilingual website that you can leverage in order to attract more search engine traffic. The use of multilingual websites is a powerful tool, especially if you want to reach the global market. Only a few people know this because they think that using the English language is enough. Truth be told, there are millions of online users who prefer to read a website on their own languages for better understanding. Some even prefer to read it in English and the local language. ConveyThis is very effective to attract an audience who wants to use their own language to find what they are searching for. For you and your website, this could mean a big thing. This can increase your sales and boost traffic to your website. Plus, you will get people to trust you because they know that your website is compatible with all countries with language barriers. Why limit your audience and sales to just visitors that speak English? ConveyThis Prices Here! Installation Takes Minutes Another reason why ConveyThis is gaining popularity is because of its easy installation. It truly is a website translation plugin for WordPress that works in as fast as 5 minutes. My video will demonstrate how easy it was to install and activate the plugin. You'll see that within seconds I turned my Niche Website, written and published in English into a Global Website translated into Spanish. Depending on the speed of your internet connection, ConveyThis takes only a couple of minutes to install. Just like other WordPress plugins you can find online, the waiting time for application is very short. You don't need to wait for hours to complete the website download, which is very convenient if you want to maximize your time while using your website. To install the plugin, having a WordPress website is much easier because you can directly search for it from the WP plugins panel. Here are the steps for your seamless installation of the plugin. Search for ConveyThis using the WP plugins panel.Click install and then activate.Start setting up your account by signing up at https://conveythis.com/account/registerConfirm your account via an email link then head to your Dashboard.You will see a unique API key on your Dashboard.To start plugging in, go to the configuration page of your plugin. Make sure that you are on your WP admin site.Paste the API key you recently copied.You should select the source language and the other languages you wish to targetYou can customize the language switcher and be able to preview it for your review.Save changes so that the language button is displayed on your website.Your reader can now click the button and translate the first page of your website. Going back to your WP Admin and plugin configuration page will allow you to edit the website translation setting. You can always make changes and save it according to your preference. There are many settings you can choose, like where you want the language flag to be placed and what that will look like. I simply used the out-of-the-box settings that are preset. Increased Sales by Localizing their Language Finally, a good feature of ConveyThis is helping users increase their sales by localizing their language. Although English is the universal language and most websites are written in it, there are still local customers and audiences who demand local language when they browse the internet. If you are trying to target your location to make sales, this plugin is a convenient tool to assist you. Since it uses over 90 languages, your audience can choose the language he/she prefers to better understand your content or the products and services you are trying to offer. Up to 5 different languages can be selected. Buy ConveyThis here! Conclusion: ConveyThis Review | Instant Website Translation Plugin ConveyThis is indeed a great website translator for many website owners and users. If you want to experience a universal service, there's no harm in checking it out. When I first decided to translate my websites into multi-languages I thought I would have to set up a separate website for each language with its own domain name. But, that wasn't the case.